Chili Garlic Baked Hoisin Pork Chops
This is a super simple recipe , perfect for a weeknight meal or a quick meal to suit the busy holiday season.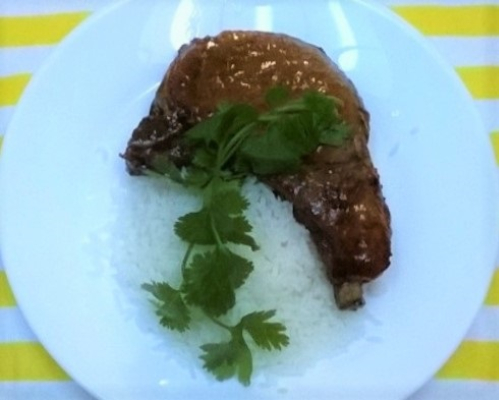 Ingredients
5 pork chops
2 to 4 tbsp Hoisin Sauce
2 tbsp garlic powder
1 to 2 tbsp crushed chili pepper
Directions
Pre-heat oven to 375F.
Place pork chops in greased baking pan (I used glass baking dishes).
Sprinkle on one side of the pork chops half the garlic powder and crushed chili peppers.
Spread half the Hoisin sauce on top of the garlic and chili.
Flip over pork chops, and evenly spread the other side with remaining garlic powder, crushed chili pepper and Hoisin sauce.
Cook in preheated 375F oven until meat is to desired tenderness.
Serve warm with a garnish of chopped cilantro or green onions, beside steamed rice.
Reviews
{{note.Summary}}
edit
{{note.author.name}} on {{note.date | date:'medium'}}
{{writtenLevel}}
{{note.Comment}}