Gochujang Mapo Tofu
My kids love MaPo Tofu.  They love the saucy tofu dish over rice.  I have always enjoyed Gochujang.  So I decided to put the two together.  Gochujang MaPo Tofu has a sweeter flavor than original MaPo Tofu. It  tastes great over warm steam rice.  I've added fish sauce as part of this dish to add more dimension to the sauce.  I haven't tried it myself, but I think it will work well as part of a lettuce wrap.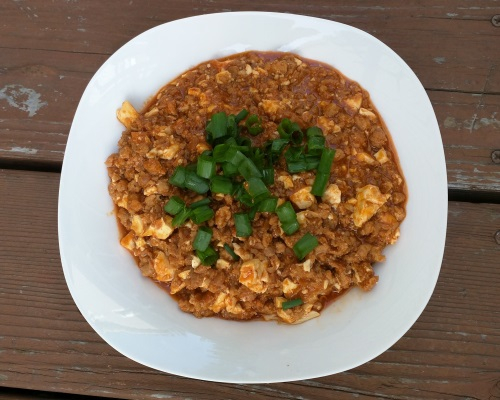 Ingredients
1 lb ground meat
1 tsp black pepper powder
1 square silken tofu, cut into ½ inch squares
½ medium onion, chopped
4 cloves garlic, chopped
½ inch ginger, chopped
1 hot chili, chopped
3-4 tbsp GoChujang
1 tsp rice wine
1 tbsp fish sauce
1 tbsp soy sauce
2 tsp sesame seed oil
1 tbsp sugar
Salt to taste
Cooking oil
½ to 1 cup water, depending on sauciness desired
Green onions, cut into 1cm pieces, optional
Cilantro for garnish, optional
Directions
Fry chopped onion, garlic, ginger and hot chili in some oil.
Once onion is slightly browned, add meat and ¼ cup water.
Stir frequently until ground meat is cooked completely.
Once pork is cooked and excess water evaporated, add sesame seed oil and Gochujang. Stir frequently.
Add soy and fish sauces, sugar and rice wine.
Add cut Tofu. Stir gently to mix.
Add ½ to 1 cup water to achieve desired sauciness.
Once sauce is at desired thickness, add cut green onions. May garnish with cilantro.
Serve warm over steamed rice.
Reviews
{{note.Summary}}
edit
{{note.author.name}} on {{note.date | date:'medium'}}
{{writtenLevel}}
{{note.Comment}}