Lemon Shrimp With Pasta
A simple, light, lemony pasta dish complemented by the sweetness of shrimp and the spiciness of crushed peppers.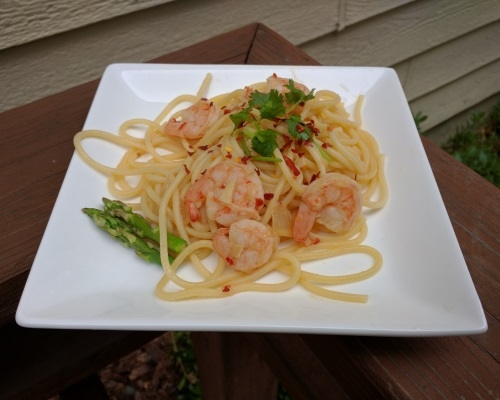 Ingredients
1 lb shrimp (peeled, deveined and rinsed with salt water)
1/4 medium onion, chopped
5 cloves garlic, chopped
1 to 2 tbsp oil
zest of 1 lemon (optional)
5 tbsp. lemon juice (may substitute with lime, adjust according to taste)
salt to taste
1/2 to 1 tsp sugar (adjust to taste)
1/2 to 1 tsp crushed red pepper (according to taste)
1/2 to 3/4 lb cooked pasta (angel hair, spaghetti or linguine)
Directions
Cook pasta in boiling water until al-dente.
Fry onion and garlic in oil until slightly browned.
Add lemon zest (optional) and crushed pepper flakes. Caution not to burn.
Add shrimp and stir until shrimp changes to white pinkish color.
Add lemon juice, 1/4 tsp salt and 1/2 tsp sugar.
Pour pasta over shrimp sauce and stir until well mixed. May add up to 1/2 cup of water if too dry. Taste and adjust for salt and sugar.
Remove from heat.
Serve warm with roasted zucchini or asparagus or your favorite veggies.
Reviews
{{note.Summary}}
edit
{{note.author.name}} on {{note.date | date:'medium'}}
{{writtenLevel}}
{{note.Comment}}