Peanut Butter Oatmeal Cookies
Mixing 2 ingredients that tastes great in a cookie, peanut butter and oatmeal. Great for a snack or as a dessert.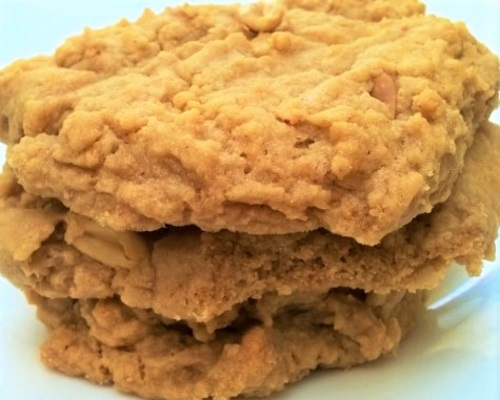 Ingredients
½ cup butter (softened)
½ cup peanut butter
1 cup brown sugar
1 egg
1 tsp baking powder
1 tsp vanilla
1 cup flour
¼ cup oatmeal
pinch of salt
¼ cup chopped walnuts
Directions
Mix together butter and peanut butter.
Add sugar, egg and vanilla.
Mix together flour, oatmeal, and salt in separate bowl.
Add to egg mixture and mix until well blended. Add chopped walnuts.
Spoon onto cookie sheet and bake in preheated oven of 350F for 10-13 minutes.
Mix baking powder in 1 tsp of warm water. Add to sugar/egg mixture and mix well.
Reviews
{{note.Summary}}
edit
{{note.author.name}} on {{note.date | date:'medium'}}
{{writtenLevel}}
{{note.Comment}}