Spicy Hong Kong Style Tomato Pork
This is a spicy version of a Hong Kong Style Pork with Tomato Sauce,  I simmer the pork with the sauces to cut out a step, and also increase the flavor infusion of the pork in the tomato sauce.  I use a couple of non-traditional ingredients in this recipe, star anise and fish sauce, both of which I believe has accentuated the flavor of the dish.  I hope you enjoy the changes.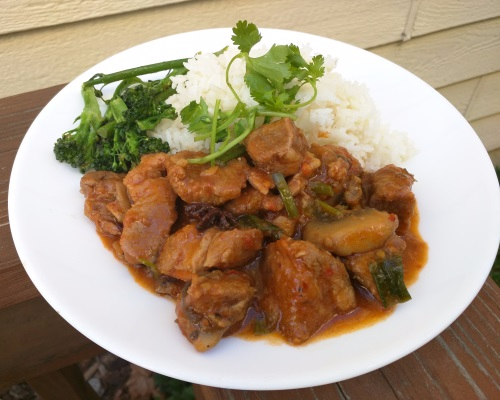 Ingredients
3 lbs pork (chops or boneless pork cut into 1 inch cubes)
½ medium onion, chopped
4 cloves garlic, chopped
1 inch ginger, chopped
1 chili (optional), chopped
3 anise
½ cup ketchup
1 tbsp hot chili oil
3 - 4 medium tomatoes, diced
5-6 mushroom, sliced
2 stalks green onion
Salt/pepper to taste
Pork Marinade
3 tbsp soy sauce
2 tbsp garlic powder
1 tsp black pepper
1 tsp Sichuan pepper (optional)
1 tbsp fish sauce
1 tbsp cornstarch
2 tbsp brown sugar
2 tbsp rice wine
Directions
Marinade pork in marinade ingredients and set aside.
Fry chopped onion, garlic, ginger, anise and chili in some cooking oil until fragrant.
Add marinaded pork and brown on each side.
Add diced tomatoes, ketchup and hot chili oil to onion, garlic mix.
Add sliced mushrooms and fry.
Allow to simmer until meat is cooked, then allow liquid to evaporate so gravy coats the back of a spoon.
Add salt and pepper to taste.
Add green onions just prior to removing dish from heat.
Serve warm over steam rice.
Reviews
{{note.Summary}}
edit
{{note.author.name}} on {{note.date | date:'medium'}}
{{writtenLevel}}
{{note.Comment}}