Sweet Pancakes
As a mom of messy kids, I cringe any time maple syrup makes an appearance at the table.  Sweet Pancakes are my solution to those sticky breakfast mornings. They're great as an on-the-go breakfast or snack too!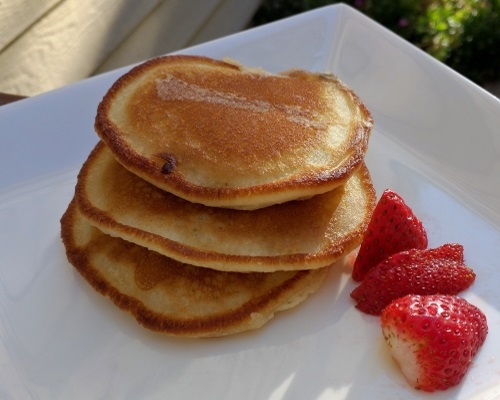 Ingredients
1 ½ cups all-purpose flour
1 tbsp baking powder
4 tbsp sugar
2 pinches salt
1 ½ cups milk
3 tbsp oil or melted butter
1 egg
1/4 cup chocolate chips or blueberries (optional)
Directions
Mix all dry ingredients together.
Add milk, beaten egg and melted butter.
Whisk well until lumps are gone.
Fry in greased pan until golden brown on one side, then flip over.
Serve as is or with berries.
Reviews
{{note.Summary}}
edit
{{note.author.name}} on {{note.date | date:'medium'}}
{{writtenLevel}}
{{note.Comment}}