Beef Bone Broth
Beef Bone Broth is my favorite soup base.  It has so many layers of complex flavors, and with a pressure cooker, a breeze to make as well!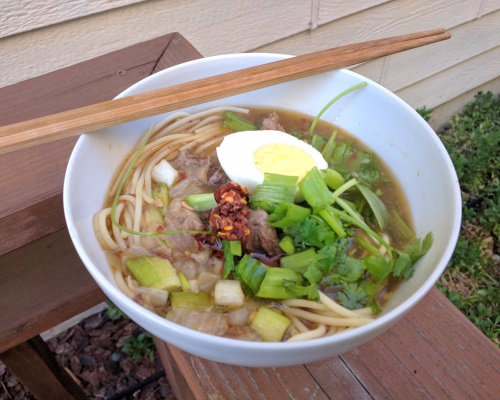 Ingredients
2-3 lbs beef shank bones
2 bay leaves
½ medium onion, diced
4 cloves garlic, diced
1 inch ginger, diced
½ tsp salt
½ tsp pepper
8 cups water
Directions
Fry diced onion, garlic, ginger, bay leaves and salt in 1 tbsp oil in pressure cooker on Saute mode.
Once fragrant, add bones and brown each side.
Add pepper and water.
Pressure cook on high on Soup mode for 90-100 minutes.
Once cooked and cooled, chill broth in refrigerator overnight and remove excess fat.
Use as part of any soup your heart desires.
Reviews
{{note.Summary}}
edit
{{note.author.name}} on {{note.date | date:'medium'}}
{{writtenLevel}}
{{note.Comment}}