Sichuan Style Beef Noodle Soup
Sichuan Style Beef Noodle Soup is one of my favorite noodle soup dishes - and if you know me, you know I like noodle soup.  It's a spicy comfort food that is perfect on a cold day.  If you have the time to make homemade beef bone broth, your mouth will thank you.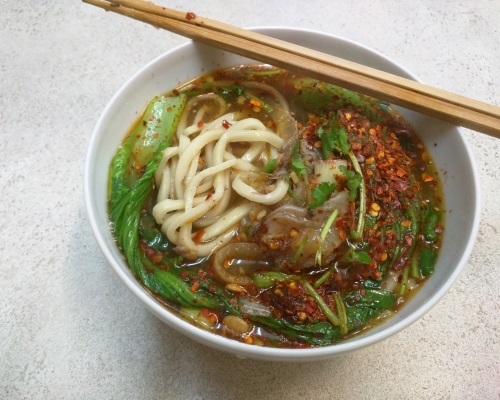 Ingredients
½ medium onion, diced
4-5 cloves garlic, diced
1 inch ginger, diced
4-5 star anise
2-3 bay leaves
¼-½ tsp Sichuan pepper (optional)
¼ cup soybean paste
1-2 tbsp hot chilli oil (adjust to taste)
½ tsp brown sugar
6-7 cups beef broth (store bought or see recipe for homemade beef bone broth)
1-2 cups water
Salt to taste
Other
Noodles (your favorite kind, I enjoy Shanghai noodles or homemade noodles)
Vegetables (your favorite kind, I enjoy Napa or bok choy)
Garnishes (cilantro, green onion, boiled egg)
Directions
Fry in a large pot 1-2 tbsp oil, diced onion, garlic, ginger, bay leaves, star anise and Sichuan peppers.
Once fragrant, turn heat to medium and add soybean paste and hot chilli oil.
Add brown sugar and mix.
Add beef bone broth and allow to come to a boil.
Add 1-2 cups of water to dilute soup according to taste.
Add salt and hot chilli oil according to taste.
Serve hot soup over cooked noodles and favorite vegetables.
Reviews
{{note.Summary}}
edit
{{note.author.name}} on {{note.date | date:'medium'}}
{{writtenLevel}}
{{note.Comment}}