Taiwanese Inspired Braised Pork Noodle Soup
Taiwanese food has always had a hold on me.  I love the strong flavors.  Being keen on strong flavors, I've increased the amount of spices used. Also being a fan of noodles, I added noodles to the Braised Pork dish to make Taiwanese Braised Pork Noodle Soup.  It is a great dish to warm up with on a cool winter's day.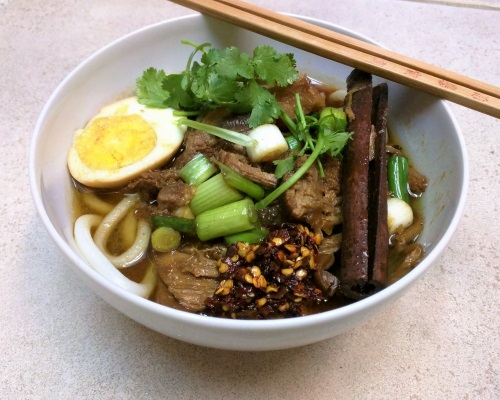 Ingredients
Braised Pork
2 lbs pork (a cut with some fat in it, I used Country Style Pork Ribs, but ideally Pork Belly)
2-3 tbsp oil
1 inch ginger (sliced thinly)
4 garlic cloves, chopped
1/2 medium onion, chopped
1-2 hot chili pepper, chopped, optional
4 star anise
1 cinnamon stick (3 inch stick)
10-12 cloves
4 tbsp brown sugar
2 tbsp rice wine
2/3 cup soy sauce
1 ½ cups water
3 dried Chinese mushrooms, rehydrated and sliced thinly, (may substitute with white mushrooms)
salt to taste
3 boiled eggs, peeled
Other Ingredients
Udon Noodles (or your favorite noodles, sufficient for 4 servings)
cilantro for garnish
Sichuan Chili Oil for garnish
green onions, chopped, for garnish, optional
Directions
Fry in oil, chopped onion, garlic, hot chili pepper, ginger slices, star anise, cinnamon stick and cloves until fragrant.
Lower heat, and add brown sugar.
Once brown sugar is melted, add pork whole (without cutting) to the pot.
Brown pork on all sides, then add sliced Chinese mushrooms to pot.
Add rice wine, soy sauce and water.
Bring to a boil and allow to simmer on low heat until pork is cooked but tender.
While pork is simmering, boil eggs, peel and rinse. Set aside to add to pot.
Boil water for cooking noodles. Add 1 tsp of oil to water to prevent sticky noodles. Once noodles are cooked, pour cold water through (to remove excess starch). Drain and divide into serving bowls.
Once pork is cooked, remove pork from heat and slice thinly.
Add boiled egg into braised soup mixture.
Return pork to pot and remove from heat.
Serve hot braised pork with egg over noodles.
Garnish with cilantro, green onions and Sichuan Chili Oil if desired.
Reviews
{{note.Summary}}
edit
{{note.author.name}} on {{note.date | date:'medium'}}
{{writtenLevel}}
{{note.Comment}}