Taiwanese Inspired Three Cup Chicken With A Twist
Inspired by the Taiwanese Three Cup Chicken recipe, this version is also bursting with flavor, with the addition of potatoes to thicken the gravy, and Chinese mushroom to make it even more hearty.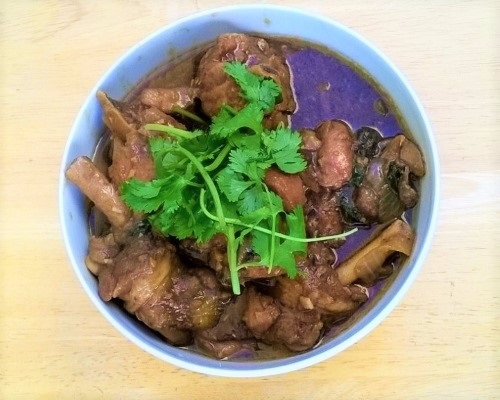 Ingredients
1/3 cup low sodium soy sauce
1 bulb garlic (yes, 1 whole bulb, chopped)
1 inch ginger, cut into thin slices
1 to 3 serrano chillies, sliced thinly
2 lbs chicken thigh or drumsticks (bone in, cut into 3 inch sections)
1/3 cup sesame seed oil
1/3 cup rice wine
3 tbsp brown sugar
2 medium potatoes, cubed
½ cup chinese mushrooms, soaked and sliced thinly
1 cup basil (Thai basil if available)
1 cup green onions, cut into 1/2 inch sections
½ cup cilantro, for garnishing
2 tbsp cooking oil
Directions
Save 2 tbsp of sesame seed oil. Mix together remainder of sesame seed oil, soy sauce, brown sugar and rice wine. Add 1 tsp of chopped garlic in this mix.
Marinade chicken pieces in oil, soy sauce and rice wine mixture for 1 to 8 hr in the fridge.
Once chicken is well marinated, heat up remaining sesame seed oil with 2 tbsp of cooking oil and fry up remaining chopped garlic, ginger and serrano chillies.
Once garlic mixture is fragrant, add chicken to brown slightly. Once all chicken browned, add potatoes, Chinese mushroom slices and remainder of marinade sauce.
Bring to a boil, then simmer uncovered until chicken is cooked and potatoes are tender. Stir frequently to prevent burning.
Once chicken is cooked,potatoes tender, and sauce is thickened, add basil and green onions.
Garnish with cilantro. Serve with warm steam rice.
Reviews
{{note.Summary}}
edit
{{note.author.name}} on {{note.date | date:'medium'}}
{{writtenLevel}}
{{note.Comment}}