Spicy Hawaiian Pineapple Chicken
My family loved this recipe when I made it for them. A little spicy, a little sweet and a little sour. Marinade and bake, perfect for a weeknight meal.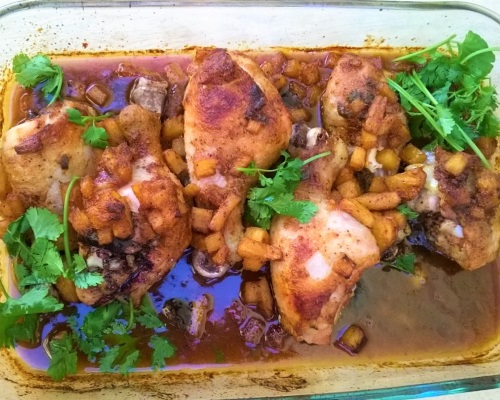 Ingredients
2 lbs chicken drumstick, thighs, wings or breast
¼ cup ketchup
¼ cup vinegar
2 tbsp butter
¼ cup brown sugar
1/2 jalapeno pepper (or serrano if preferred more heat)
1 tsp ginger powder
1 tsp garlic powder
3 tbsp low sodium soy sauce
1 cup pineapple chunks or rings (fresh, frozen or canned)
Directions
Melt butter and brown sugar in a marinading bowl.
Add all ingredients (except meat) into butter/brown sugar mix. Stir well.
Pour over chicken and marinade in fridge for 1 to 8 hours.
Bake in a single layer at 375F until chicken is cooked through.
Garnish with cilantro or green onions. Serve warm with steamed rice.
Reviews
{{note.Summary}}
edit
{{note.author.name}} on {{note.date | date:'medium'}}
{{writtenLevel}}
{{note.Comment}}