Indian Inspired Hot Chutney Chicken
This recipe was given to me by my mom, and it's one of my favorite and easy recipes. Rich and tasty, and quick to prepare. Perfect for a weeknight meal.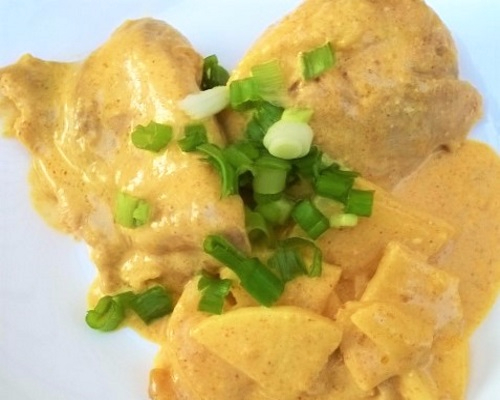 Ingredients
4 to 6 chicken breast or thigh or drumsticks or wings
½ cup mayonaise
½ cup sour cream (or plain yogurt to substitute)
2 to 3 tbsp mango chutney (hot)
2 tsp curry powder (adjust according to taste)
1 lemon, juiced
½ tsp salt
2 potatoes, sliced thinly
1 onion, sliced into rings
Directions
Preheat oven to 375F.
Mix all ingredients with chicken. Marinade for 1 to 8 hours in fridge.
Place thinly sliced potatoes and onion rings at the bottom of the 9x13 pan,underneath meat.
Cook in oven for 20-25 minutes and turn over for another 20-25 minutes or longer, if not fully cooked. If using chicken breast, remove meat once cooked, before continuing to cook potatoes, to prevent meat from getter tough.
Garnish with green onions or cilantro is desired. Serve with warm rice.
May serve leftovers as a pizza (spread sauce on pizza crust and cut chicken into bite sized pieces) and add red onions and cheese. May serve leftovers in a sandwich.
Reviews
{{note.Summary}}
edit
{{note.author.name}} on {{note.date | date:'medium'}}
{{writtenLevel}}
{{note.Comment}}