Curry Chicken - Malaysian Style
This curry is one my mom, who is Malaysian Eurasian (of Portuguese descent) taught me to make as a basic chicken curry. My mom tends to cook with tamarind, but I tend to prefer lime or lemon juice to add the tangy flavor to the curry.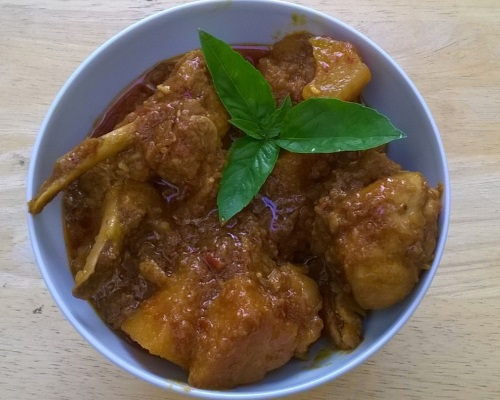 Ingredients
2 to 3 lbs chicken thighs (with or without bones, depending on personal preference)
2 medium potatoes - cut into chunky cubes about same size of meat
salt to taste
3 to 4 fresh chillies
1 to 2 soy sauce
1 tomatoes, cut into chunks
3 limes, juiced
Paste
2 medium onions - cut into chunky slices
1 bulb garlic - cut into slices
2 stalks lemongrass - cut into slices
10 to 15 dried chillies - soaked in water and drained
½ tsp turmeric powder
vegetable oil
Directions
Fry in oil sliced up onions, garlic and lemongrass until slightly brown
Add dried chillies and stir for a few minutes.
Cool slightly and place in food processor. Grind until fine.
If making paste ahead of time, may freeze for up to 1 month.
Replace paste into pan. Add turmeric powder.
Add meat and potatoes into pan and let slightly brown. Stir often to prevent burning. Add a little water if necessary.
Add chunky tomatoes and let simmer until meat is mostly cooked through.
Then add lime juice and salt to taste.
Serve warm over rice.
Reviews
{{note.Summary}}
edit
{{note.author.name}} on {{note.date | date:'medium'}}
{{writtenLevel}}
{{note.Comment}}