Curry Devil - Pork Ribs
This tangy and spicy authentic Eurasian curry comes directly from the Malaysian village of Portuguese Settlement in Malacca. It is bursting with the flavors of lemon grass, coriander, ginger, onions, garlic and vinegar. The perfectly tender potatoes completes the flavor infusion. This dish is usually served during Christmas and special occasions. It can be made with chicken or pork.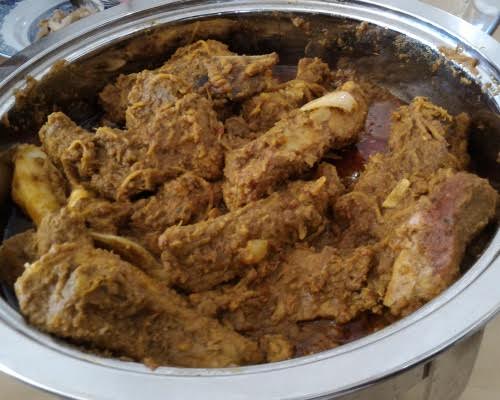 Ingredients
2 to 3 lbs pork spare ribs
2 medium potatoes - cut into chunky cubes about same size of meat
2 inch ginger - cut into long thin strips
½ cup vinegar
salt to taste
3 to 4 fresh chillies
1 onion - cut into 8 chunky pieces
1 to 2 soy sauce
Paste
2 medium onions - cut into chunky slices
1 bulb garlic - cut into slices
2 stalks lemongrass - cut into slices
10 to 15 dried chillies - soaked in water and drained
½ tsp turmeric powder
1 ½ tbsp coriander powder
½ tsp mustard seed powder
vegetable oil
Directions
Fry in oil Sliced up onions, garlic and lemongrass until slightly brown
Add dried chillies and stir for a few minutes.
Before removing from heat, add turmeric, coriander and mustard seed powder. Keep stirring to prevent burning.
Cool slightly and place in food processor. Grind until fine.
If making paste ahead of time, may freeze for up to 1 month.
In the meantime, fry ginger slices in oil until browned. Remove from heat and set aside
Replace paste into pan.
Add meat and potatoes into pan and let slightly brown. Stir often to prevent burning.
Add a little water if necessary and let simmer until meat is mostly cooked through.
Add vinegar, soy sauce, fried ginger and salt and pepper to taste.
Add chunky onions and fresh chillies and let boil once.
Serve warm over rice.
Reviews
{{note.Summary}}
edit
{{note.author.name}} on {{note.date | date:'medium'}}
{{writtenLevel}}
{{note.Comment}}