Malaysian Curry Laksa
A rich curry gravy bursting with the flavors of coconut and lemon grass served over noodles, shrimp, bean sprouts, eggs and shredded chicken. A favorite breakfast in Malaysia. It is a hearty meal and we have it for lunch or dinner.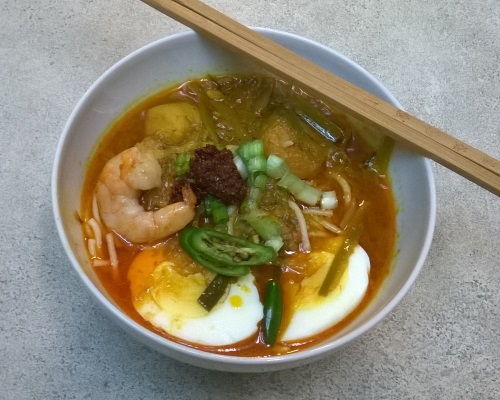 Ingredients
½ package yellow noodle or spagetti noodles (adjust quantity accordingly)
0.5 package beehon noodles (optional) (adjust quantity accordingly)
½ lb bean sprouts
1 can coconut milk
4 cups chicken broth
salt/sugar to taste
½ block of fish paste/fish balls (optional)
½ lb shrimp - peeled, deveined and rinsed with salt
1 chicken breast
1 cucumber - cut into thin slices
3 hard boiled eggs
2 or 3 stalks green onion - chopped finely
1 lime - cut into 4
1 to 2 tsp soy sauce
Curry Laksa Paste
2 medium onions
½ bulb of garlic
3 candlenuts or 4 almonds (de-skinned) - optional
½ tsp turmeric powder
10 to 15 dry chillies (adjust according to taste)
3 tbsp vegetable oil
3 stalks lemongrass - cut into slices
Directions
Cut all of above ingredients into chunks
Fry onion, garlic, candlenuts and lemon grass in oil until lightly browned. Add dried chillies and fry for a few moments.
Pour into food processor and grind until smooth.
Pour back into pan and add turmeric powder. Stir frequently to prevent burning.
Add chicken broth and let boil.
Add fish paste/balls if desired
May cook chicken breast and shrimp in the soup, remove both chicken and shrimp from soup as soon as it is cooked. Shrimp will cook sooner than chicken breast. Shred chicken and peel shrimp, if not done already. Set aside both.
Add soy sauce and salt and sugar to taste.
Once boiled, add coconut milk and let boil.
Turn off heat while preparing other ingredients
Boil water to cook noodles and bean sprouts.
Once cooked, spread noodles and bean sprouts between 4 bowls
Garnish with cooked shredded chicken, cooked shrimp, hard boil eggs, green onions, lime and cucumber.
Spoon curry over noodles until it just cover top of noodles.
Serve hot.
Reviews
{{note.Summary}}
edit
{{note.author.name}} on {{note.date | date:'medium'}}
{{writtenLevel}}
{{note.Comment}}