Burmese Inspired Pork Curry
I was inspired to create this recipe from a Burmese Pork recipe we found on memalee.com. I worked to make some minor changes to the original recipe so that it fit with our tastes and cooking style. I keep all vinegar used in the dish, I added potatoes, and of course, I added chili peppers. Unlike the curries that I grew up with, this curry is not overpoweringly spicy. It is a wonderful compromise between our spicy tastes, and our kids' mild preferences. This dish tastes much like a flavorful stew. Additionally, it goes very well with steamed rice. I frequently prepare this dish on weekends and then freeze it for use in meals on busy weekdays.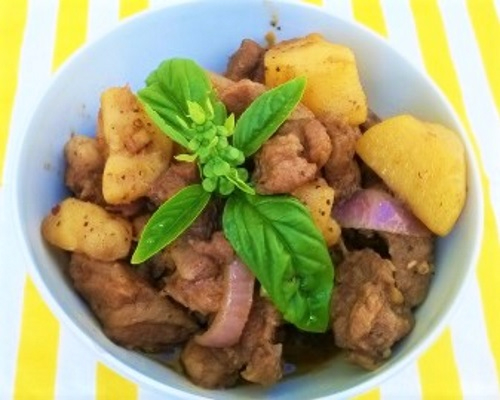 Ingredients
2 to 3 lbs pork, a slightly fatty cut, cut into 1 inch cubes
½ medium onion, diced
4 cloves garlic, chopped
1 inch ginger, chopped
3 tbsp cooking oil
1 to 3 hot chilli pepper, chopped, optional, adjust to taste
3 tbsp soy sauce
½ to 1 tbsp brown sugar
2 to 3 medium potatoes - cut into chunky cubes about same size of meat
1 tbsp Black pepper
2 stalks green onions, cut into 1/2 inch sections
3 whole hot chilli peppers, optional, adjust to taste, to be left in curry whole
salt to taste
1 to 4 tsp chilli powder, mild, ajust according to taste.
¼ cup black or malt vinegar (may substitute with balsamic vinegar if needed)
Directions
Soak cubed pork in vinegar.
Fry together in oil, chopped onion, garlic, ginger and hot chilli peppers.
Once fragrant, add cubed pork and brown slightly.
Add potatoes, leftover vinegar marinade, soy sauce, brown sugar. Reduce heat and allow to simmer until meat and potatoes are tender. Feel free to add 1 cup water, to prevent burning. Stir occasionally.
Once tender, add black pepper, chilli powder, whole chillis and salt according to taste.
Add green onions and remove from heat.
Serve over warm steamed rice. Garnish with cilantro if preferred.
Reviews
{{note.Summary}}
edit
{{note.author.name}} on {{note.date | date:'medium'}}
{{writtenLevel}}
{{note.Comment}}