Chilli - No Beans
This is a great dish to warm up on a cold winter's night, especially for those who like the heat of chilli without the heaviness of beans.  I recently updated this recipe with the addition of celery, carrots and bacon to give it a little more depth in flavor.   For an Italian twist, I serve it over some spaghetti and topped with fresh Jalapeno chilies.  A squirt of lemon juice over the top of the chili lightens the dish.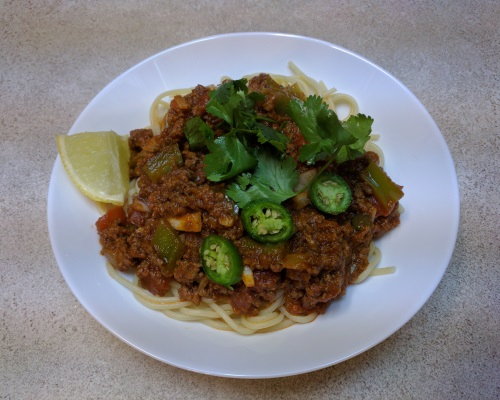 Ingredients
1 ½ to 2 lbs beef - cubed into 1/2 inch pieces, or ground beef
1/2 medium onion, chopped
4 cloves garlic, chopped
2 tbsp cooking oil
2 tbsp bacon, cut into thin strips
1 carrot, grated or shredded
1 celery stalk, diced
2-3 tbsp cumin powder, adjust according to taste
1 tsp ground black pepper
1/2 to 3 hot pepper (ex: serrano, jalapeno, thai chillies) - adjust according to taste
1 can tomato sauce (~25-30 oz)
1 tsp brown sugar
1 tbsp soy sauce
salt to taste
1/2 to 4 tsp hot chilli powder (adjust according to taste)
1-2 green peppers, diced
4-5 mushrooms, sliced thinly
Directions
Stir fry chopped onions, garlic and hot pepper in cooking oil, until fragrant.
Add shredded carrot, celery and bacon and fry until bacon turns slightly brown.
Add meat and mushrooms and brown meat on all sides.
Once browned, turn heat down and add cumin and ground black pepper.
Add tomato sauce and cover to let simmer.
Once meat is cooked, add brown sugar, soy sauce, hot chilli powder, salt and pepper to taste.
Add diced green peppers, stir until diced vegetables are tender.
Serve with cilantro. May serve with cornbread, pasta, nachos or just by itself with a side of lemon.
Reviews
{{note.Summary}}
edit
{{note.author.name}} on {{note.date | date:'medium'}}
{{writtenLevel}}
{{note.Comment}}