Portuguese Inspired Braised Peas And Eggs
This recipe is a comfort food for the Portuguese. Simple to make, but warms the soul. Perfect for a cool fall or winter's night.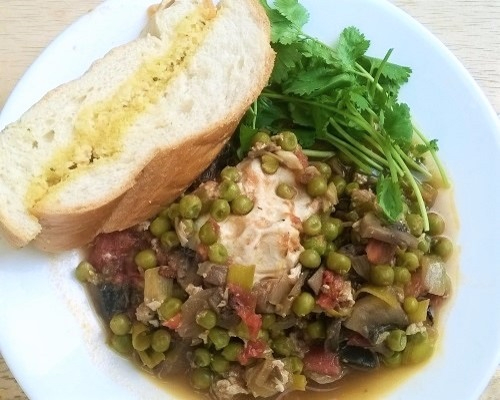 Ingredients
½ medium onion, chopped
3 cloves garlic, chopped
1 to 2 hot chilli pepper, chopped (adjust to taste)
3 large tomatoes, diced
1 cup smoky sausage (may omit if prefer vegetarian version)
1 tsp coriander powder
2 tbsp cooking oil
1 leeks, sliced thinly
4 eggs
2 cups peas (fresh or frozen)
3 stalks cilantro, for garnish
salt to taste
Directions
Stir fry choped onion, garlic and hot pepper in oil until lightly browned and fragrant.
Add sliced sausage to brown.
Add diced tomatoes and coriander powder and let simmer.
Once tomatoes have liquefied, add peas and let simmer until peas are warmed through. Add salt to taste.
Break eggs directly into simmering tomato sauce. Do not mix. Cover to let simmer to cook eggs to desired consistency.
Garnish with cilantro. Serve with bread (or garlic bread).
Reviews
{{note.Summary}}
edit
{{note.author.name}} on {{note.date | date:'medium'}}
{{writtenLevel}}
{{note.Comment}}