Chocolate Brownie Cake
A simple, rich chocolate cake with all the flavors of a brownie and the texture of a cake.  Serve plain, with icing sugar, with whipped frosting or with ice-cream.  **UPDATE** I have recently tried this recipe substituting 1/4 cup of the flour with cocoa powder.  The rest of the recipe stayed the same.  The substitution of 1/4 cup cocoa powder made the cake more intensely chocolaty. so if you are a chocolate-lover, this might be a favorable change.  If on the other hand, you're not a big fan of super chocolaty deserts, then feel free to stick with the original recipe.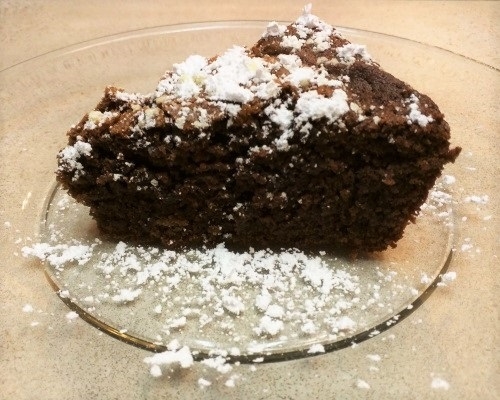 Ingredients
1 cup dark chocolate chips, melted in 1 tbsp butter (may use microwave)
1 cup butter, softened
4 eggs
1 cup sugar
2 tsp vanilla
1 cup All Purpose Flour
2 tsp baking powder
½ cup milk
Directions
Cream butter and sugar until light.
Add vanilla and melted chocolate.
Add eggs into mix, one at a time.
Slowly add milk into cake mixture.
Mix flour and baking powder.
Add flour to cake mix ¼ cup at a time. Mix slowly.
Pour into greased cake pan and bake at 350F for 35-45 minutes or until knife comes out clean.
Reviews
{{note.Summary}}
edit
{{note.author.name}} on {{note.date | date:'medium'}}
{{writtenLevel}}
{{note.Comment}}