Marbled Brownies
A rich, moist and delectable brownie dessert made with nuts, white and dark chocolates topped with a chewy layer of melted marshmallow.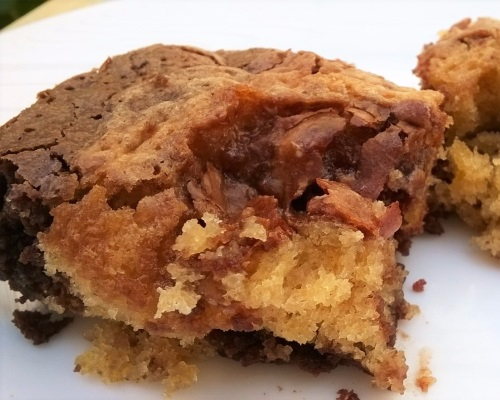 Ingredients
4 eggs
1 cup flour (may use 1/3 cup whole wheat flour, 2/3 cups all purpose flour if desired)
¼ tsp salt
1 tsp baking powder
1 cup dark chocolate chips + 1 tbsp butter
1 cup butter
1 ¾ cups brown sugar
2 tsp vanilla essence
1 cup mini marshmallows
¾ cup chopped nuts (walnuts or pecans)
¼ cup white chocolate chips
Directions
Melt butter.
Mix together eggs, sugar and vanilla.
Add melted butter to mix.
Mix flour, salt and baking powder separately and add to butter mix.
Add chopped nuts.
Separate mixture into half.
In a separate bowl, melt chocolate chips + 1 tbsp butter.
Add melted chocolate to one half of separated mixture.
Mix well then add marshmallows to this portion.
Add white chocolate chips to other portion of mixture.
Pour white chocolate mixture onto the bottom of a greased 9x13 pan.
Pour chocolate marshmallow mixture onto the top of the white chocolate mixture.
Use knife to make swirls in batter.
Bake at 350F in preheated oven for 40 to 50 minutes.
Reviews
{{note.Summary}}
edit
{{note.author.name}} on {{note.date | date:'medium'}}
{{writtenLevel}}
{{note.Comment}}