Sex In A Pan
A quick yet scrumptious layered dessert made of cream cheese, whipped cream, and pudding on a buttery nutty crust. A favorite in our house.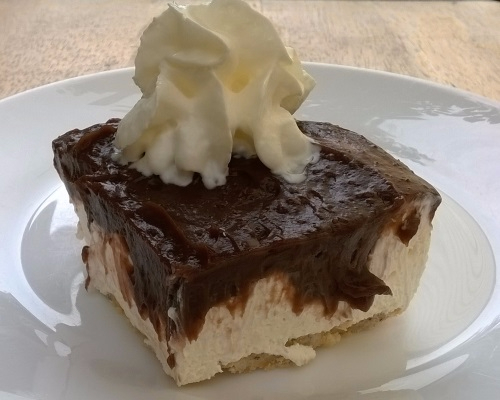 Ingredients
½ cup butter - softened
½ cup walnuts (chopped)
1 cup flour
8 oz package of cream cheese - softened
½ cup confectioners sugar
2 small (8oz) packages of whipped cream
1 package instant chocolate pudding (5-6oz)
1 package instant vanilla pudding (5-6oz)
3 cups milk
4 tbsp cooled coffee (optional)
2 tbsp rum (optional)
crushed walnuts or pecans (optional)
Directions
Mix butter, walnuts, and flour and press into 9x13" pan.
Bake at 350F for 20-25 mins. Let cool.
For cream cheese layer, mix cream cheese with sugar.
Mix 1.5 packages of whipped cream into cream cheese mixture.
Pour over cooled crust.
For chocolate layer, mix vanilla and chocolate pudding powders with 3 cups of milk.
Add cooled coffee and rum into pudding mixture.(optional)
Pour over cream cheese layer. Let set.
Top over pudding layer with remaining whipped cream.
Sprinkle over with crushed nuts. (optional)
Let sit in fridge for 30-60 minutes if possible to let set.
Serve cold (with whipped cream topping if desired).
Reviews
{{note.Summary}}
edit
{{note.author.name}} on {{note.date | date:'medium'}}
{{writtenLevel}}
{{note.Comment}}