Easy Loco Moco
One of the things I love about  vacations is the different foods and different meal ideas we encounter. Loco Moco is one such idea. Simple and hearty, it is one that serves a very useful purpose for us. We hike often and are usually in the middle of mountains or trees, where there is no food truck or lunch cafe close by. Lucky for us, we just need to stop under the shade of a tree, and pull out Loco Moco to satisfy our hunger.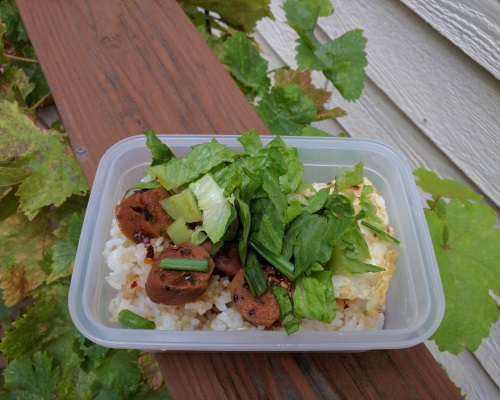 Ingredients
Steamed Rice
Fried Egg
Lettuce, diced
Spam or Portuguese Sausage (or your favorite sausage)
Directions
Option 1: Pan fry Spam until edges are crisp. (Optional: Add 1 tbsp of sugar and 1 tbsp of soy sauce. Allow to come to a boil. Stir frequently. Alternatively, remove Spam from pan. Add 1 tbsp of Gochujang and 2 tsp of sugar and allow to fry slightly. Remove from heat. Pour over crisp Spam.)
Option 2: Pan fry or boil sausage of your choice. Cut into round slices. (Optional: Add ketchup and Sriracha sauce to pan and allow to come to a boil).
Serve over steamed rice, top with a fried egg and diced lettuce.
Reviews
{{note.Summary}}
edit
{{note.author.name}} on {{note.date | date:'medium'}}
{{writtenLevel}}
{{note.Comment}}