Cinnamon Butter Mochi - Hawaiian-inspired
One of my favorite things about cooking is bringing home a taste of our vacation.  I enjoyed Butter Mochi while on vacation in Hawaii this last summer. When I returned home, I wanted to make some myself.  After a few tries, I decided to give it a crusty top, much like a brownie.  My version adds a couple of tablespoons of sugar as a topping. I also added cinnamon to the topping, but feel free to omit the cinnamon if you're not a cinnamon-lover.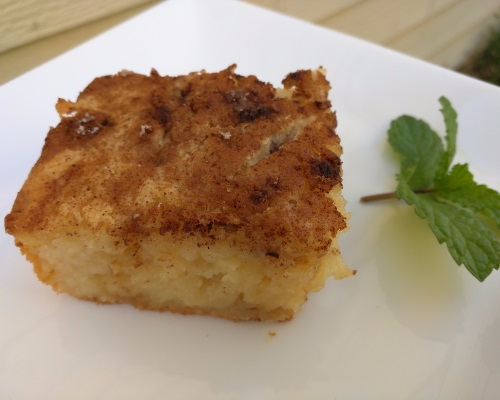 Ingredients
1 ½ cups white sugar
1 lb mochiko (sweet rice flour - about 3 cups)
½ cup butter, melted
2 tsp baking powder
1 can evaporated milk (12 oz)
1 can coconut milk (14 oz)
5 eggs
1 tsp vanilla
*Topping:*
2 tbsp brown sugar
2 tbsp white sugar
2 tsp cinnamon powder (optional)
Directions
Preheat oven to 350F.
Whisk together eggs, vanilla and milks.
In a separate bowl, mix together baking powder, sugar and mochiko.
Gradually add dry ingredients into wet ingredients, whisking between each addition to remove lumps.
Add melted butter.
Whisk well to remove lumps. If still lumpy, feel free to pour batter through sieve when pouring into greased baking pan.
Grease a 9"x13" or two 8"x8" pans.
Pour batter into pan of choice.
Sprinkle cinnamon powder, then brown sugar then white sugar on top.
Bake in preheated oven at 350F for about 45-60 minutes.
Best served warm with tea.
Reviews
{{note.Summary}}
edit
{{note.author.name}} on {{note.date | date:'medium'}}
{{writtenLevel}}
{{note.Comment}}