'healthy' Brownies
Made you look didn't I? B) If there is such a thing as healthy Brownies, these might be them. With half the amount of sugar normally used and oatmeal flour substituting for half the flour, these gooey and chewy brownies will leave you wanting just one more piece. Warmed, of course.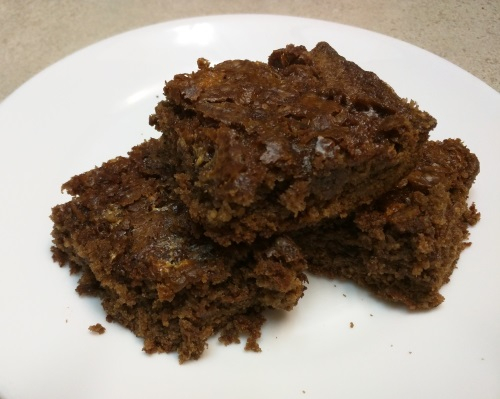 Ingredients
1 cup chocolate chips
1 cup butter
1 to 1¼ cup sugar (based on your preference of sweetness)
4 eggs
2 tsp vanilla
2 pinches salt
1 tbsp baking powder
½ cup oatmeal flour (I grind quick oats in my food processor-do NOT substitute with AP flour)
½ cup all-purpose flour
1-2 cups mini marshmallows
Directions
Melt butter and chocolate chips the easiest way you can (I melt mine in the microwave).
Whisk together eggs and sugar.
Add vanilla.
Add melted butter and chocolate chips
Mix together oatmeal flour and all purpose flour with baking powder and salt.
Add flour mixture to egg/chocolate mixture. Stir well.
Add mini marshmallows and mix well.
Bake in greased 9"x13" pan at 375F for 35 to 45 minutes until toothpick come out fairly clean.
Serve warm as-is or with a side of your favorite ice cream.
Reviews
{{note.Summary}}
edit
{{note.author.name}} on {{note.date | date:'medium'}}
{{writtenLevel}}
{{note.Comment}}