Hot Chilli Oil
This recipe is similar to Sichuan Chilli Oil, but without the mouth numbing Sichuan pepper. This side works great to spice up any meal, either during the cooking process or afterwards at the table.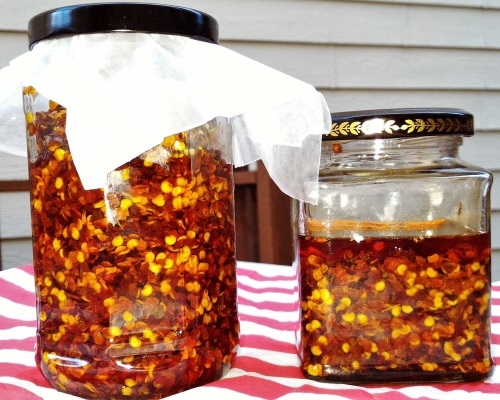 Ingredients
1 cup crushed pepper
1 cup oil
½ tsp salt
1 inch ginger, sliced thinly
Directions
Heat oil in small pot.
Add sliced ginger and salt to oil.
Allow ginger to get fragrant and brown in heated oil. Remove ginger slices once brown.
Turn heat off.
Add crushed pepper to hot oil.
Let oil and crushed peppers mingle.
Serve as a side to any food that needs spicing up.
Once cooled, place in a jar and refrigerate.
Reviews
{{note.Summary}}
edit
{{note.author.name}} on {{note.date | date:'medium'}}
{{writtenLevel}}
{{note.Comment}}