Mexican Inspired Crispy Breakfast Burrito
A good friend of mine gave me this idea for a hearty breakfast. Thanks Alison! Easy, nutritious and the kids love it!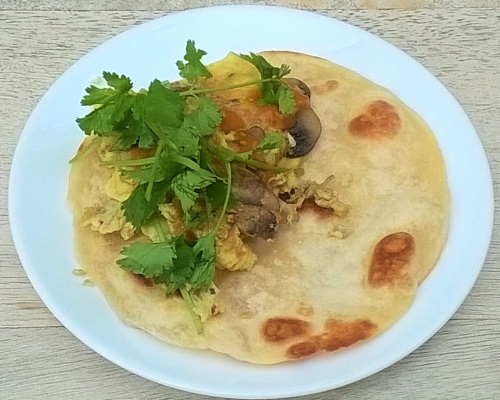 Ingredients
Garnish and Other Ingredients
4 uncooked tortillas
Hot sauce or salsa
Cheese
Cilantro
Omelette
5 eggs
1 hot chili pepper, diced (Optional)
1/2 tsp garlic powder
1/2 tsp onion powder
1/4 black pepper powder
1/4 tsp salt to taste
4-5 mushrooms, sliced
1 red pepper, diced
1 stalk green onion, cut into 1 cm pieces
1/2 cup cooked sausage or ham, diced (your favorite variety, optional)
Directions
Crack all eggs into a bowl.
Mix in garlic, onion, black pepper powders and salt into egg. (Feel free to use fresh ingredients instead, if desired.) Beat eggs.
Add meat into pan in 1-3 tbsp oil.
Once meat starts to sizzle, add beaten eggs into oil.
Add diced mushroom, red pepper and any other diced vegetable you might have.
Fry on one side until bottom is slightly brown, then flip egg over. Fry other side until slightly brown. Remove from heat.
Concurrently using another pan, or consequent to frying egg in same pan, add 1 tsp of oil to pan.
Add uncooked tortilla, brown on one side. Then flip tortilla and brown the other side. (Alternatively, you may use store bought tortilla. To make crispy follow cooking instructions for uncooked tortilla.)
Cut fried omelet into portion sizes and place on tortillas lined with thin slices of cheese. Add salsa or hot sauce as desired.
Reviews
{{note.Summary}}
edit
{{note.author.name}} on {{note.date | date:'medium'}}
{{writtenLevel}}
{{note.Comment}}