Sausage Sandwich
A different way to serve sausages with bread from the traditional hot dog. Perfect when you have more people to feed than number of sausages on hand.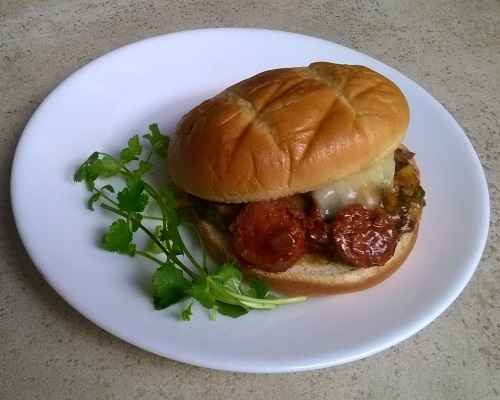 Ingredients
2 sausages (chorizo or hot italian recommended)
2 slices of cheese (mozarella or pepperjack recommended)
4-6 buns
2-3 leaves of lettuce
1/2 sweet onion (sliced into rings)
4 slices of tomatoes
mayonaise or mustard
½ cup barbecue sauce
Directions
Bake or pan fry sausages until cooked.
Cut sausages up into rounds.
Re-place cut sausages into pan or oven pan and add sliced onion rings. Let onion cook for a few minutes. Add barbecue sauce.
Toast bread slices, spread mayonaise or mustard.
Add sausage and onion mix on toasted bread.
Top with cheese, tomato and lettuce. If feeling spicy, add some jalapeno or serrano chilli slices. Enjoy!
Reviews
{{note.Summary}}
edit
{{note.author.name}} on {{note.date | date:'medium'}}
{{writtenLevel}}
{{note.Comment}}