Spicy Fried Beehoon
This is one of my favorite meals, spicy combined with a little sweetness from the shrimp, onions, leeks and cabbage. Makes a perfect breakfast, lunch or dinner.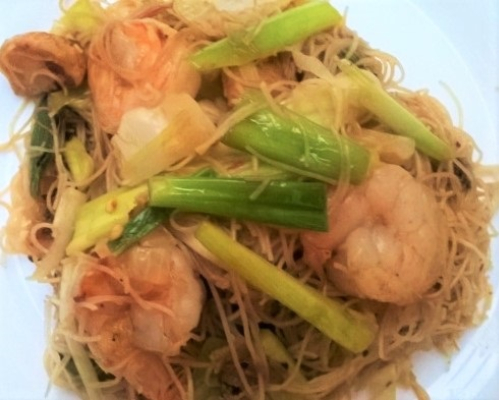 Ingredients
1 package bee hoon noodles
½ to 1 cup shrimps, peeled (or chicken breast sliced thinly)
0.5 medium onion, chopped
3 cloves garlic, chopped
1 to 5 tsp chilli paste (ex. sambal oelek, can be found in most grocery stores, in the Asian aisle)
1 to 3 tsp Sichuan chilli oil (optional)
1 to 2 leeks, sliced thinly and well drained.
3 leaves of cabbage, sliced and well drained
3 to 7 tbsp cooking oil
salt to taste
2 tsp soy sauce
Directions
Pour boiling water into bee hoon noodles in a deep saucepan. Cover with lid until beehoon noodles are al-dente. Be careful not to get noodles too soft . Noodles get soggy when cooked, if too soft to begin with. Drain noodles in strainer well, preferably a few hours, if possible. Noodles that are not drained well tend to get soggy when cooked.
Heat 3 tbsp cooking oil in wok, Stir fry chopped onions and garlic until fragrant.
Add shrimp to mix, and remove shrimp once it is cooked. Set aside.
Add salt, chilli paste (and Sichuan chilli oil if desired), fry until fragrant but not burned.
Add well-drained noodles, mix well with sauces in pan. Add soy sauce. Be careful not to add too much soy sauce to avoid making noodles too soggy and wet. May need to add cooking oil to prevent noodles from burning.
Add sliced vegetables into wok, underneath noodles. Let cook for 3 to 5 minutes, being careful not to allow the bottom to burn.
Stir vegetables into noodles. Vegetables should be cooked but still firm.
Garnish with green onions or cilantro, if available. Serve warm.
Reviews
{{note.Summary}}
edit
{{note.author.name}} on {{note.date | date:'medium'}}
{{writtenLevel}}
{{note.Comment}}