Korean Inspired Spicy Jap Chae
Jap Chae is one of my favorite dishes. I love the sweetness of the noodles. I'm used to having these vegetarian, but I added some meat to this recipe. And as I do in most of my dishes, I spiced it up, but feel free to omit the spice. Hope you enjoy it.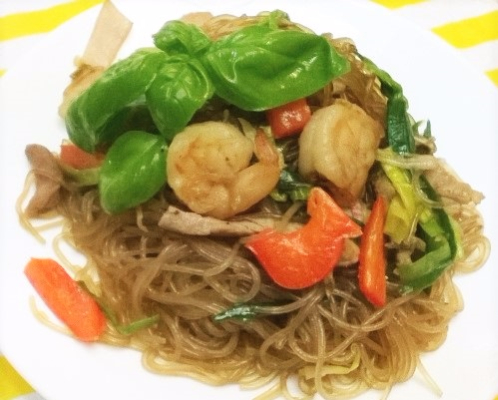 Ingredients
5 tbsp Low Sodium soy sauce
2 tbsp brown sugar
2 tbsp sesame seed oil
¾ lb dry sweet potato noodles (rehydrated according to package, rinsed with cold water and drained)
3 cloves garlic, chopped
¼ medium onion, chopped
1 hot chilli pepper (sliced thinly, optional)
2 tbsp cooking oil
1 carrot, sliced thinly
1 leek, sliced thinly or 2 cups spinach
6 dried shiitake mushrooms, rehydrated and thinly sliced
1 sweet red pepper (thinly sliced, optional)
½ cup shrimps (peeled, deveined and rinsed with salt)
½ cup beef or pork (thinly sliced)
Directions
Fry in cooking oil chopped onion, garlic and hot chilli pepper, if using hot peppers.
Add shrimp and fry until tender but cooked. Remove from pan (to avoid overcooking) and set aside.
Add sliced beef or pork and fry until cooked through.
Add thinly sliced carrot, mushrooms and leeks.
Mix together sesame seed oil, brown sugar and soy sauce and set aside.
Add cooked sweet potato noodles. If noodles start to burn, it might be necessary to lower heat.
Add soy sauce mixture over noodles and stir. If noodles are not sufficiently tender, may need to add some water 1/4 cup at a time.
Once noodles are sufficiently tender and mixed, add sliced red peppers.
Serve warm with a side of rice or on its own if desired. Garnish with cilantro if desired.
Reviews
{{note.Summary}}
edit
{{note.author.name}} on {{note.date | date:'medium'}}
{{writtenLevel}}
{{note.Comment}}