Sweet Potato Malasada - Portuguese/hawaiian Inspired
Portuguese malasadas are found readily in Hawaii. They are a fried yeast dough and has the texture of a doughnut, but without the doughnut hole. In this recipe, mashed sweet potatoes are incorporated into the dough of a plain malasada.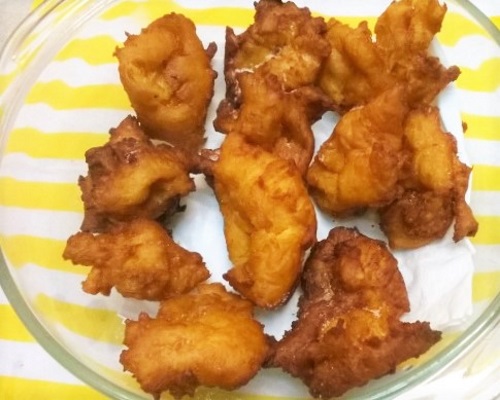 Ingredients
1 cup mashed sweet potato (mashed after being peeled and boiled)
1 eggs, whisked
2 cups flour
½ cup white sugar
1 tbsp butter, melted
2 pinches of salt
2 tbsp milk
½ tsp dry active yeast
1 tsp white sugar
1 tbsp warm water
1 tsp ground cinnamon
Directions
Mix together warm water, 1 tsp white sugar and yeast in a bowl, and let sit for 10-15 minutes.
Place flour, cinnamon and salt in a bowl, and make a well in the center.
Add beaten egg, white sugar, milk, mashed sweet potato, yeast mixture and melted butter into the well.
Mix well to form a soft dough. Once dough is formed, cover dough and keep at a warm place until dough doubles, usually about an hour.
Once dough is doubled, warm up oil for deep frying.
Using greased forks, pick up pieces of dough (about 1" size)and drop them into warmed oil for deep frying.
Once one side of malasada has been browned, flip the malasade over to brown the other side.
Once malasada is sufficiently browned, sprinkle with some white sugar to desired sweetness.
Serve warm. Savor malasadas with tea.
Reviews
{{note.Summary}}
edit
{{note.author.name}} on {{note.date | date:'medium'}}
{{writtenLevel}}
{{note.Comment}}