Sweet Honey Biscuits
Crispy on the outside, moist on the inside. These go great with fresh berries on a warm summer's day.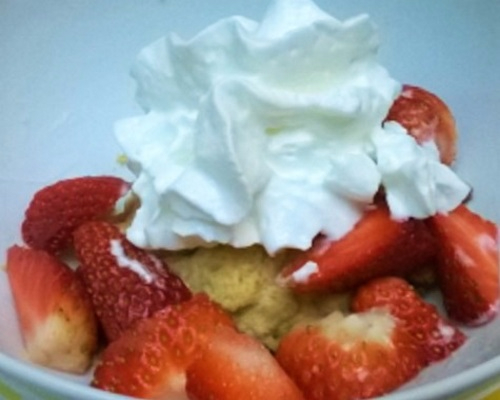 Ingredients
½ cup butter, unsalted, cold
2/3 cup milk
3 tbsp honey
2 tsp baking powder
2 cups flour
2 tbsp sugar
2 pinches salt
Glaze
2 tbsp honey
2 tbsp butter
Directions
Mix all dry ingredients together.
Dice cold butter and mix until the consistency of coarse crumbs. This can be done by hand, with a pastry knife or pulsing in the food processor.
Drizzle 3 tablespoons of honey into mixture.
Add cold milk and mix until dough is just moist. This can be done by hand, or by pulsing in the food processor.
Preheat oven to 375F.
Spoon dough balls onto greased pan. (Alternatively, if using a pastry cutter or 2 knives, roll dough into 2 logs and cut into 2 cm wide rounds.)
Mix together the melted butter and honey for the glaze. Brush over biscuit dough.
Bake biscuits in preheated 375F oven for 15 to 20 minutes.
Once biscuits are ready, remove from oven and brush biscuits with remaining glaze.
These biscuits are best served warm with fresh berries.
Reviews
{{note.Summary}}
edit
{{note.author.name}} on {{note.date | date:'medium'}}
{{writtenLevel}}
{{note.Comment}}