Tikka Masala Lasagna
Tikka Masala has such a creamy, rich and spicy flavor, it is a wonderful dish for so many different fusion dishes.  A fusion recipe itself, it was developed in India as the British colonized it.  As part of a lasagna, it contributes a wonderful full-flavor of spice, but yet rich and creamy with a tomato base, like the original lasagna.  To make it an easier recipe, feel free to used store or restaurant-bought Tikka Masala.  If using store bought, just follow the directions on what to add to make a tikka masala sauce for your lasagna. My recipe below uses garam masala to simplify the spices, which you can purchase at the store, or make at home using this wonderful garam masala Allrecipe by KitchenBarbarian.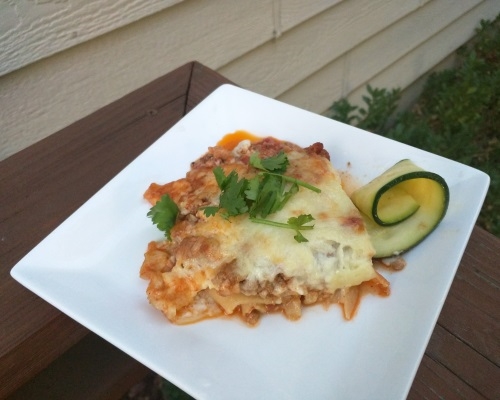 Ingredients
6-7 lasagna pasta to make 2 lasagna layers, oven ready or boil until al-dente
2-3 cups shredded cheese, mild (I.e. mozzarella)
Quick Tikka Masala Sauce:
2 - 2.5 lbs ground chicken/turkey/beef
3 tbsp garam Masala
½ medium onion, chopped
4 cloves garlic, chopped
1-2 hot chili (optional), chopped
¼ inch ginger (may substitute with ginger powder), chopped
2 tbsp butter
1-3 tsp hot chili powder (adjust accordingly to taste)
1 can (14 oz ) tomatoes
½ cup whole milk
1 tbsp brown sugar
½ cup plain yogurt
Salt to taste
Juice of ½ lime
Bechamel Sauce:
1 tbsp butter
2 tbsp flour
1 ½ cup whole milk
Directions
Quick Tikka Masala Sauce:
Fry chopped onion, garlic, hot chili (optional), in butter until lightly browned.
Add ground meat. 
Once mostly cooked, add garam masala and hot chili powder (adjust according to taste).
Allow to fry and add canned tomatoes.
Add whole milk and plain yogurt, allow to come to a boil at medium heat.
Add brown sugar and salt to taste.
Add lime juice.
Béchamel Sauce:
Melt butter in a small pot.
Add flour and stir.
Once flour gets slightly brown, add whole milk.
Whisk to prevent lumping.
To assemble lasagna, grease bottom of 9x13 pan, add just enough meat sauce to cover bottom of pan.
Layer with cooked or oven-ready pasta. 
Layer with meat sauce and some shredded cheese (optional).
Cover cheese with bechamel sauce.
Layer with lasagna over top. Repeat with sauces and cheese.
Bake at 375 F until cheese melts and slightly browned for pasta that you cooked, or according to package instructions for oven-ready pasta.
Allow lasagna to rest for 30 minutes before serving.
Reviews
{{note.Summary}}
edit
{{note.author.name}} on {{note.date | date:'medium'}}
{{writtenLevel}}
{{note.Comment}}