Asian Pulled Pork Sandwich
My kids are huge fans of BBQ Pulled Pork Sandwiches, so I experimented and came up with an Asian version.  I use homemade pickled vegetables in these sandwiches, reminiscent of Vietnamese Sandwiches and Sriracha Mayo to give it a little kick.  Feel free to omit the Sriracha.  This recipe can be made in a slow cooker or pressure cooker, so no need to babysit a pot on the stove.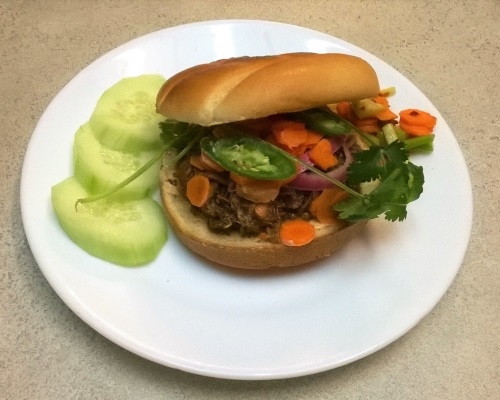 Ingredients
Pickled Garnish
5-6 carrots, sliced thinly
½ medium onion, cut into rings
White vinegar, sufficient to cover carrots and onions in separate bowls. Allow to soak in vinegar for 30minutes to 8 hours
Pulled Pork
3 lbs pork roast
½ medium onion, chopped
6 cloves garlic,chopped
1inch ginger, chopped
1 hot chili pepper, optional, adjust to taste
2 star anise
¼ tsp salt, adjust to taste
½ tsp pepper
1-3 tsp Sriracha sauce, optional, adjust to taste
2 tbsp soy sauce
¾ cup Hoisin sauce
½ cup water
½ to 1 stalk leek, chopped
10 small white mushrooms, sliced thinly
Sriracha Mayo
¼ cup mayonnaise
½ to 1 tsp Sriracha sauce
Mix these ingredients in a bowl. Set aside in refrigerator.
*Other Ingredients*
Hamburger buns
Hot chili pepper, cut into thin slices, optional
Cilantro
Thai basil
Directions
Brown chopped onion, garlic, ginger, hot chili pepper and star anise in 2-3 tbsp oil.
Add meat in pot to brown on all sides.
Add sliced mushrooms, leeks, salt and pepper and stir until limp.
Add Hoisin, Sriracha and soy sauces and mix.
If using crock pot, transfer into crock pot. If using pressure cooker, may leave browned ingredients in pressure cooker. Cook for as long as recommended by manufacturer of cooker for meat to be easily "pulled". May cook on stove top as well, on low heat, but will need to stir occasionally to prevent burning at bottom. May need to add more water.
Add ½ cup water into cookers or pot before beginning cook process.
Once meat is cooked, "pull" with fork and mix.
To serve, spread Sriracha Mayo on hamburger buns.
Place Pulled Pork on buns, as dryly as possible.
Remove pickled carrots and onions from vinegar just prior to serving, to drain excess vinegar.
Place pickled garnish onto Pulled Pork.
Garnish further with cilantro, Thai basil and hot chili pepper slices if desired.
Reviews
{{note.Summary}}
edit
{{note.author.name}} on {{note.date | date:'medium'}}
{{writtenLevel}}
{{note.Comment}}