Homemade Lemon Creamsicle
With hot weather upon us, I am constantly looking for new ways to keep my kids cool.  Here is one that we came up with when we had too many lemons in the house.  Feel free to use lime if you prefer, add the higher end of the sugar range if you prefer a sweeter version.  My husband is a big fan of tart, so he was perfectly happy with the smaller amount of sugar.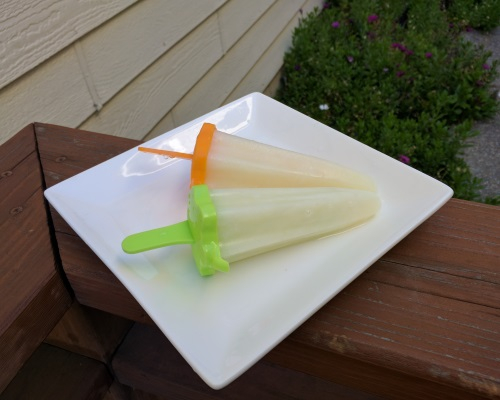 Ingredients
1/2 cup water
1/2 cup milk (whole preferred)
2/3 to 1 cup sugar (2/3 cup sugar makes a tart creamsicle, use 1 cup for a sweeter version)
1/2 cup lemon juice
Directions
Melt sugar in water.
Add milk and mix.
Juice lemon and add to milk mixture.
Quickly mix and pour into popsicle molds - the milk/lemon mixture will curdle).
Freeze until solid.
Warm the outside of popsicle molds with water to allow for easy release from the molds.
Enjoy cold!
Reviews
{{note.Summary}}
edit
{{note.author.name}} on {{note.date | date:'medium'}}
{{writtenLevel}}
{{note.Comment}}