Easy New York Inspired Japanese Style Cheesecake
Like the Japanese style Cheesecake, this cheesecake uses a meringue to create volume without the density and richness of a New York Cheesecake.  Like the New York Cheesecake, I have added sour cream (instead of milk or cream), to give it a little more richness and added a little more sugar to sweeten it, compared to a typical Japanese style Cheesecake.  I tend to like very moist cakes, so feel free to bake your cake 5-10 minutes longer if you prefer yours not-so-moist. I have tried to simplify this recipe as much as possible, hopefully without compromising taste, so you will find this recipe to have less ingredients needed than most other Japanese Cheesecake recipes, and hopefully a little easier to make, utilizing everything that a 21st century kitchen offers, while at the same time minimizing steps whenever possible.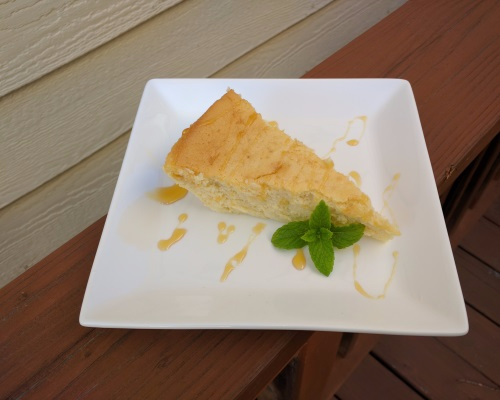 Ingredients
8oz cream cheese (original - not light version - for best flavor; whipped cream cheese works better as well)
¼ cup butter
⅓ cup sour cream - original - not light version - for best flavor (may substitute with whole milk vanilla yogurt if you prefer a lighter version)
6 eggs, separated
⅔ cup icing sugar
1/4 tsp cream of tartar
¼ cup all purpose flour, sifted
2 tsp vanilla
1 tsp lemon juice
Directions
Separate egg whites from yolk. Set up egg whites in a stand mixer, using a whisk attachment.
Add sugar and cream of tartar into egg white and whisk until stiff peaks.
Warm cream cheese and butter in microwave for 30-45 sec just until they soften. Mix well, use a whisk if needed to remove lumps.
Add egg yolks (a couple yolks at a time) into cream cheese mixture and mix well.
Add vanilla, lemon juice and sour cream.
Add sifted flour and stir sufficiently to remove lumps.
Preheat oven to 325F, preparing a water bath for the Cheesecake pan in the oven.
Fold in whisked egg whites gently, 1/3 of the whisked whites at a time.
Pour into a well-greased 9x13" pan (with at least 1.5" sides) for a thinner bar cheesecake, or a 10" round/pie pan with 2 inch sides.
Once oven is heated to 325F, place cake pan into hot water bath and bake for 65-75mins, keeping to the lower end of the range if you prefer a moist cake and the higher end of the range for a more well-done version. Check for desired doneness using the toothpick test.
Turn oven OFF. Allow cake to stay in Open oven for 30 minutes to prevent cake sinking.
Once that wait time is complete, allow cheesecake to cool to room temperature at room temperature, then refrigerate cake until cool. Best to make cheesecake the day before serving.
Serve cheesecake cold on its own, with a side of fresh berries or with drizzle of honey.
Reviews
{{note.Summary}}
edit
{{note.author.name}} on {{note.date | date:'medium'}}
{{writtenLevel}}
{{note.Comment}}