Homemade Pasta Sauce With Fresh Tomatoes Ii
This is a grown up version of the pasta sauce I used to make in college. I use fresh tomatoes in this homemade spicy pasta sauce. You can use frozen tomatoes if you prefer, without detracting from the taste too much. Canned tomatoes, however, I found doesn't have the tang that comes with fresh tomatoes. I decided to omit tomato paste to avoid masking the amazing flavors of the fresh tomatoes. Unfortunately, tomato paste also helps redden the color of the sauce, so omitting it causes the sauce to be less red. It's an easy sauce to make, so give it a try! Double the recipe and save some in the freezer. You' won't want to go back to store bought pasta sauce after you have tried this sauce.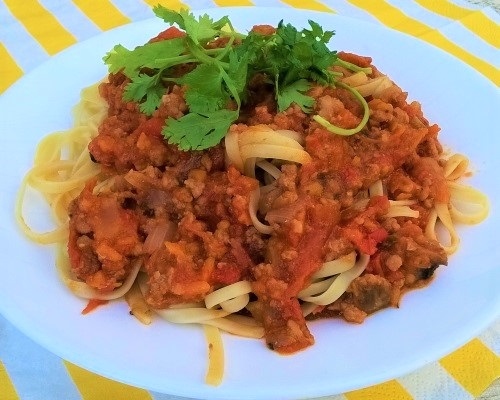 Ingredients
Arrabiata Sauce
1 medium onion, chopped
5 cloves garlic, chopped
1 to 2 hot chili pepper, chopped, adjust according to taste
1 carrot, shredded
1 stalk celery, chopped
3 to 4 tbsp cooking oil
2 lbs fresh tomatoes, washed, diced or sliced thinly
3 to 4 tsp brown sugar, adjust according to taste
2 bay leaves
5 to 10 basil leaves
salt and pepper to taste
Directions
Fry chopped onion, garlic, celery and hot chili pepper in cooking oil.
Once slightly browned, add shredded carrot and bay leaves.
Stir for a few minutes, then add cut tomatoes.
Add 1/2 tsp salt to tomatoes, and allow to come to a boil with lid of pan open, to thicken sauce. Stir often.
Once sauce has gotten thicker, add brown sugar to balance the tang of the fresh tomatoes. Add 5 basil leaves and salt to taste.
Remove sauce from pan. Do not rinse pan.
If you are adding meat, using the same pan, add about 1-2 tablespoons cooking oil to the pan.
Add al-dente cooked pasta to sauce and mix well.
Serve warm with fresh basil.
This sauce works great on its own as a marinara sauce, but feel free to add meat.
Add the meat of your choice (diced or ground) to the pan and 1 tsp garlic powder and 1/2 tsp black pepper.
Sautee meat until cooked, then add sauce back into the pan. Mix well.
Reviews
{{note.Summary}}
edit
{{note.author.name}} on {{note.date | date:'medium'}}
{{writtenLevel}}
{{note.Comment}}