Homemade Fresh Tomatoes Pasta Sauce - Italian Asian Fusion
Asian inspired and made with fresh tomatoes, this sauce tastes great served over any pasta. Light and hearty all at the same time, this dish was a comforting go-to meal in college when I had some time to spare.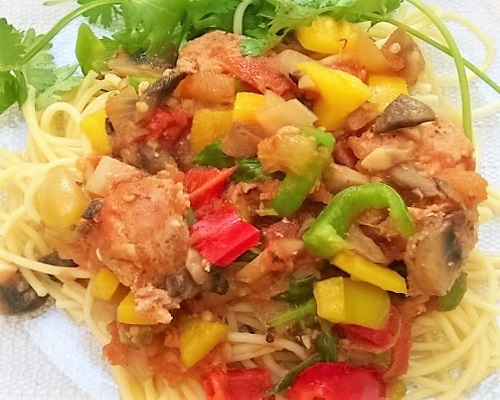 Ingredients
4 large tomatoes, diced
1 lb ground meat of choice or uncooked sausage
1 cup Mushrooms (sliced - crimini mushrooms preferable)
4 cloves garlic, chopped
½ medium onion, chopped
0.5 chilli pepper (any hot chilli pepper), optional
2 tbsp Low Sodium Soy Sauce
1 cup sweet peppers (any combination of green, red and yellow peppers)
1 tsp sugar
½ to 1 tsp black pepper, ground (adjust according to taste)
2 to 3 tbsp cooking oil
2 stalks green onions, cut into 1cm pieces
Directions
Fry chopped onion, garlic and chili pepper in oil until slightly browned.
Add ground meat to mixture.
Stir until meat is cooked, then add mushrooms. Fry mushrooms until slightly tender.
Add diced tomatoes and black pepper and stir until tender. Simmer until all tomatoes have released their juices, and mixture appear to be saucy. Sitr from time to time to prevent burning at the bottom.
Add sugar and soy sauce to taste.
Add sweet peppers and green onions and stir around until peppers look warmed through but still crispy. Remove from heat. (Since no tomato paste is used, sauce will appear light in color, but flavorful)
Serve over warm pasta. Garnish with cilantro if desired.
Reviews
{{note.Summary}}
edit
{{note.author.name}} on {{note.date | date:'medium'}}
{{writtenLevel}}
{{note.Comment}}