Spicy Beef Stroganoff With A Twist
A thick and rich gravy of beef and mushroom over buttery noodles - A classic Russian dish with a twist.  Here I add some tomato along with crushed chilli peppers.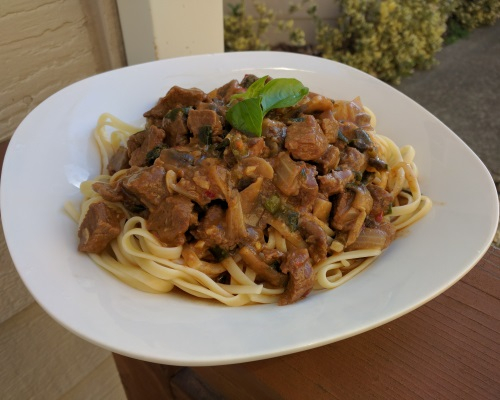 Ingredients
Beef Seasoning
1 lb beef - cubed into ½ inch pieces
½ tsp salt
1 tsp pepper
1 tsp thyme
1 tsp garlic
1 tsp onion powder
1 tsp paprika
1 tsp crushed pepper (optional, adjust to taste)
1 tbsp flour
Sauce
½ medium onion
2 cloves garlic, chopped
1/2 medium tomato, diced
¼ cup sour cream or yogurt
¼ tsp nutmeg
salt/pepper to taste
parsley
1 cup beef broth or milk
¾ cup Mushrooms (sliced - crimini mushrooms preferable)
2 tbsp butter
Directions
Season beef with all of the above dry ingredients.
Fry onion and garlic in butter until slightly browned
Add seasoned beef and fry until cooked.
Add sliced mushrooms and tomato, and fry until mushrooms are limp.
Add milk and let simmer until gravy thicken slightly.
Add nutmeg powder.
Add sour cream and mix well.
Add parsley and salt/pepper to taste.
Serve over cooked egg noodles.
May garnish with crushed peppers and parsley if desired.
Reviews
{{note.Summary}}
edit
{{note.author.name}} on {{note.date | date:'medium'}}
{{writtenLevel}}
{{note.Comment}}