Indian Chicken Pizza With Hot Mango Chutney Sauce
This is a great recipe to make if you have leftovers of Hot Mango Chutney Chicken, or if you have leftover store bought roast chicken.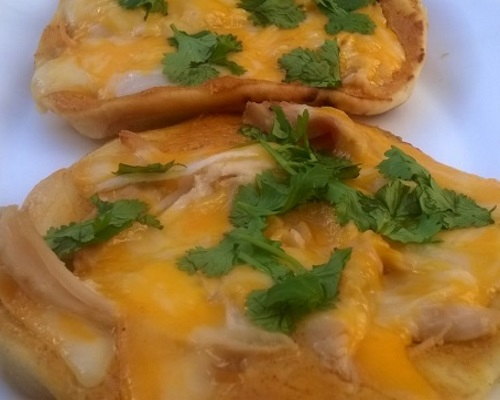 Ingredients
1 cup roast chicken (store bought or homemade), shredded
1 cup hot mango chutney sauce mix (recipe follows)
1 to 2 stalks green onion, finely chopped
1 cup mozarella (or other mild) cheese, shredded
1 large pizza crust or 2 large sized naans (storebought or homemade)
Hot Mango Chutney Sauce
½ cup mayonaise
½ cup sour cream (may substitute with plain yogurt)
2 to 3 tbsp hot mango chutney (storebought or homemade)
2 to 3 tsp curry powder (adjust according to taste)
¼ tsp salt
1 lemon, juiced
Directions
Mix all ingredients for hot mango chutney sauce in a bowl.
Spread sauce evenly on pizza crust or naan bread.
Spread shredded chicken and chopped green onion over bread.
Spread cheese over top of chicken.
Bake in a preheated 375F oven for 20 minutes or until cheese is melted.
Reviews
{{note.Summary}}
edit
{{note.author.name}} on {{note.date | date:'medium'}}
{{writtenLevel}}
{{note.Comment}}