Indian Chicken Pizza With Tikka Masala Sauce
This pizza is a quick meal if starting out with store bought rotisserie chicken and store bought tikka masala sauce.  Feel free to use leftover Tikka Masala dishes, either home made or take out. Great for a weeknight meal.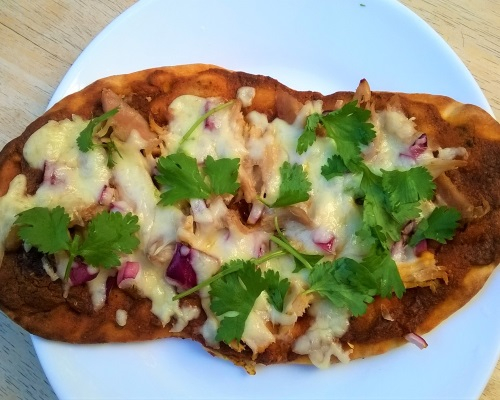 Ingredients
6 to 8 medium naans or 1 large pizza crust
Sauce
5 tbsp tikka masala (may use storebought)
¼ cup yogurt
2 tbsp tomato paste
1 tsp sugar
2 tbsp melted butter
1 tsp chilli powder, optional, may adjust according to taste
2 tbsp water, to thin out sauce if necessary
¼ tsp salt
Topping
2 cups chicken (cooked and shredded, may use store bought rotisserie chicken)
½ to 1 medium red onion, diced
3 to 4 cups shredded cheese (mozarella or other mild cheese)
1 handful cilantro (for garnish)
Directions
Mix together all ingredients for pizza sauce.
Spread a thin layer of sauce over bread.
Evenly spread shredded chicken, diced red onions and cheese over bread.
Place in preheated 375F oven for 20 minutes or until cheese starts bubbling.
Garnish with cilantro. Serve warm with a side of salad.
Reviews
{{note.Summary}}
edit
{{note.author.name}} on {{note.date | date:'medium'}}
{{writtenLevel}}
{{note.Comment}}