Easy Indian Curry Eggplant - Baigan Bharta Inspired
Mashed Curry Eggplant is another Indian dish that my family loves.  It works great as a dipping sauce for breads, as a vegetable side or as a filling for quesadilla or roti.  Making it is not as difficult as I thought.  Start the process by baking the whole eggplant in the oven to and start a curry in the pan, then put the two together.  Because of this dish, my husband buys eggplant every chance he gets.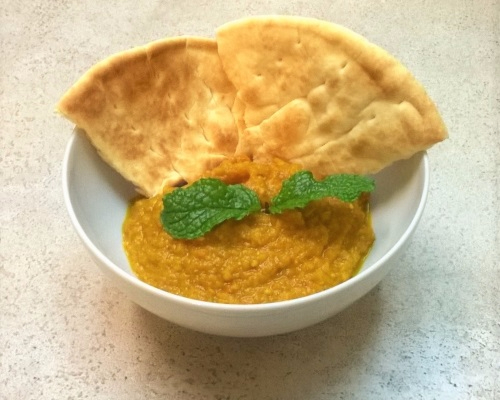 Ingredients
Curry
4 tsp garlic powder
4 tsp onion powder
1-2 hot chili peppers, chopped
2-3 Indian curry leaves (optional)
2 tbsp Indian curry powder (adjust to taste)
2-3 medium tomatoes, diced
1/2 tsp brown sugar (adjust to taste)
Salt to taste
3 stalks green onion, cut into 1cm pieces, optional
1/2 tsp garlic powder to add just prior to removing from heat.
Eggplant
2-3 Chinese eggplants ( or 1 American eggplant)
Cooking spray or 2 tbsp oil to brush over eggplant
Directions
Brush whole eggplant (skin on) with thin layer of oil or spray with cooking spray.
Place eggplant in 400F preheated oven for about 30 minutes, flipping around half way. Once eggplant is tender to the puncture of a fork, remove eggplant and let cool slightly.
Once cool enough to handle, peel off eggplant skin and discard. Dice cooked eggplant.
Fry hot chili peppers in 2 tbsp oil. Add Indian curry leaves and tomatoes and allow tomatoes to soften.
Add Indian curry powder and mix.
Add cooked diced eggplant and allow to simmer on low heat. Stir frequently to prevent burning. If mixture looks thick or easily burned, add 1/4 cup water.
Add salt and sugar to taste.
Just before removing from heat, add 1/2 tsp garlic powder.
Feel free to mash further in a food processor.
Add green onions upon removal from food processor.
Serve as part of a rice meal, as a dip for naan, or as a stuffing for quesadilla or roti.
Reviews
{{note.Summary}}
edit
{{note.author.name}} on {{note.date | date:'medium'}}
{{writtenLevel}}
{{note.Comment}}