Kale And Leek Stirfry
I have been cooking with kale for a while now, and this is my favorite way of preparing it - cut thinly and stir fried with leeks.  Leeks impart a sweetness to the kale and complements it perfectly.  This dish works well as a vegetable side to any dish.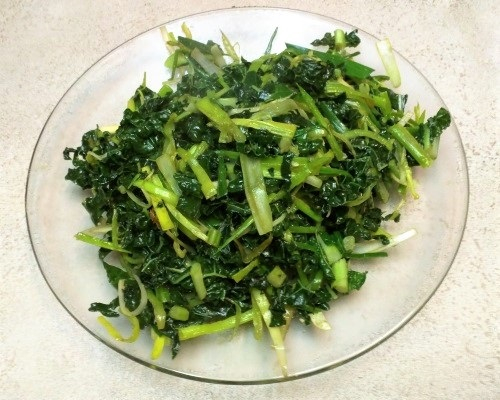 Ingredients
1 small bunch kale, cut into thin strips
1 leek, cut into thin strips
1 tsp garlic powder (or 1 clove fresh garlic if preferred)
1 tbsp fish sauce (may use soy sauce to substitute, or salt to taste)
Directions
Heat 2 tbsp oil in pan.
Add cut kale into pan.
Stir until kale is almost limp then add garlic powder and leeks.
Add fish sauce to mix and stir.
Remove from heat and serve warm.
Reviews
{{note.Summary}}
edit
{{note.author.name}} on {{note.date | date:'medium'}}
{{writtenLevel}}
{{note.Comment}}