Korean Gochujang Salad Vinaigrette Over Roasted Broccoli.
GoChujang (Korean hot fermented bean paste) is quickly becoming one of my favorite condiments in the kitchen.  It has such complex flavors - rich, salty, sweet and spicy.  In this vinaigrette, I add vinegar and sesame seed oil to round out the many flavors of GoChujang.  I have used this over roasted broccoli or a simple lettuce/cucumber salad.  Feel free to add to any of your favorite vegetables, roasted or not!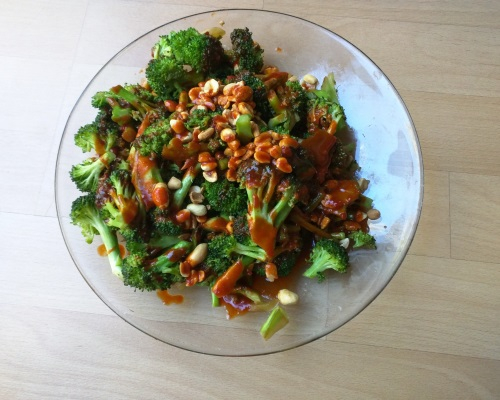 Ingredients
Korean Gochujang Vinaigrette
2 tbsp Gochujang
¼ cup sesame seed oil
¼ cup vinegar
¼ tsp garlic powder
2 tsp brown sugar
1 tsp soy sauce
Roasted Broccoli
2 small to medium crowns of broccoli, cut into bite sized pieces
1/4 tsp garlic powder
pinch of salt
1/2 tsp black pepper or crushed pepper (adjust to taste)
Directions
Place bite - sized broccoli onto greased baking pan.
Sprinkle salt, garlic powder and pepper over broccoli florets.
Brush a thin layer of oil over broccoli (or use oil spray if more convenient).
Bake broccoli at 375F for about 15-20 minutes or until broccoli is cooked to desired tenderness/crispness. If there is liquid in the pan, definitely bake until all liquid is evaporated.
Mix together all vinaigrette ingredients above.
Heat in microwave for 20 seconds until sugar is dissolved.
Pour over roasted broccoli (or any other of your favorite roasted vegetables or salads).
Feel free to add roasted peanuts or roasted sesame seeds over top of any salad using this vinaigrette.
Reviews
{{note.Summary}}
edit
{{note.author.name}} on {{note.date | date:'medium'}}
{{writtenLevel}}
{{note.Comment}}