Malaysian Style Wonton Dry Noodles
A hawker favorite - thin egg noodles bathed in spicy seasoning sauce, served with blanched green vegetables, vinegar chilli and ground meat or chinese roasted pork (char sieu) with a side of wonton soup. A favorite local street food amongst locals in Malaysia.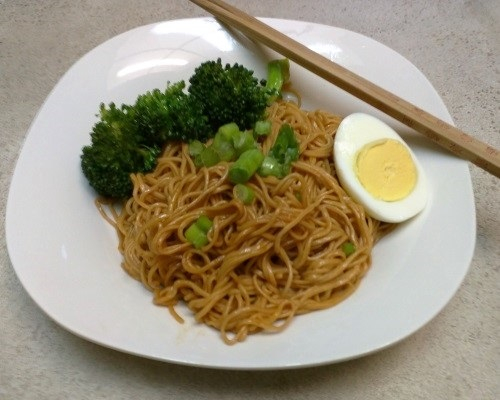 Ingredients
1 pack fresh asian egg noodles (pack of 5)
Ground Pork Topping
1 lb ground pork
1/2 inch ginger, chopped
3 cloves garlic, chopped
1/2 medium onion, chopped
Sauce for Noodles
1 tbsp light soy sauce
1 tbsp oyster sauce
1 tbsp sesame seed oil
1 tbsp spicy sriracha sauce (adjust according to taste)
1 tbsp vegetable oil
Topping for Noodles
Boiled Eggs
Ground Pork (see recipe below)
Vegetable
1 pack of your favorite green veggie (i.e. spinach, bok choy etc)
Vinegar Chilli
¼ cup fresh Chilli peppers (serrano, jalapeno, or thai chilli)
½ cup vinegar
1 tsp fish sauce
1 tsp soy sauce
Directions
Ground Pork Topping
Fry chopped ginger, garlic and onion in oil until fragrant.
Add ground pork and fry until cooked well. Remove from pan and serve as a topping on prepared noodles.
*May use other forms of meat as noodle topping such as chinese roasted pork or wonton dumplings (see recipe).
Noodle
Boil water. Add individual wonton noodles.
Once noodles are at desired tenderness, remove noodle from heat and place in cold water to remove excess starch. Drain well.
Place noodle into sauce and mix well.
Microwave noodles to warm it up.
Drop in boiling water some green vegetables (i.e. yu choy, bok choy etc). Drain well and place on top of noodles.
Serve with ground pork topping (or other topping i.e. Chinese roasted pork, as desired).
Serve with wonton soup on side and vinegar green chilli if desired.
Sauce for noodles
Mix all of sauce ingredients well in individual serving plates. Above quantities are per individual serving.
Vinegar Chilli
Mix all of vinegar chilli ingredients together and let sit up to 8 hrs before serving with noodles.
Reviews
{{note.Summary}}
edit
{{note.author.name}} on {{note.date | date:'medium'}}
{{writtenLevel}}
{{note.Comment}}