Sweet Potato Scones
Sweet potato is one of my favorite ingredients to work with in the kitchen.  Sweet potato has a wonderful natural sweetness that it requires less added sugar compared to its counterparts.  The honey glaze adds a subtle sweetness to the tops of the scones.  Feel free to omit the honey, but do use a melted butter wash over top of the scones to prevent it from drying in the oven.  One medium sweet potato usually produces about 1 cup of mashed sweet potato.  I usually boil the sweet potato whole (with skin on, after being washed) until very tender to the fork.  Then I drain the water, and remove the potato skin after soaking in cold water.  The next step is to mash.  I usually purchase several sweet potatoes at a time, boil, mash and separate into 1 cup mashed sweet potato portions to be frozen and used conveniently in the future.
For this recipe, I use a modification to the rough puff pastry technique to create more layers after each roll, therefor reducing work and time that the butter is at room temperature.  A kitchen scraper also made the entire rolling and folding process a lot more efficient.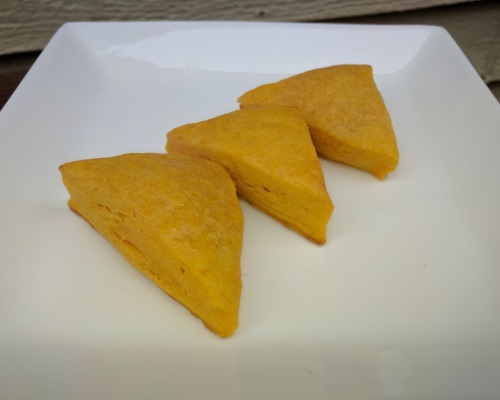 Ingredients
1 1/3 cups all-purpose flour
3 tbsp sugar
2 pinches salt
1 tbsp baking powder
1 egg
½ cup butter, cut into thin squares
1 cup mashed sweet potato (if using fresh, boil and mash; or may use canned)
Honey Butter Glaze:
1 tbsp butter
1 tbsp honey
Directions
Mix dry ingredients in a large bowl.
Mix egg into flour.
Add thinly sliced butter into flour/egg mixture. Coat butter with flour/egg mixture using utensils (avoid touching with hands to prevent butter from melting).
Add mashed sweet potato to butter/flour mix, again avoiding using hands to mix.
Once mashed sweet potato is roughly mixed with flour, pour entire mixture on a floured surface. "Dough" will be sticky, soft patchwork at this point.
Using a floured rolling pin, roll out dough into an approximate square, that measures about 25cm on each side.
Visually split the square into 3, folding the outer third of both ends into the middle, on top of one another, much like folding a piece of paper to fit a rectangular envelop. The kitchen scraper helps make the folding process here efficient.
Now you'll have a long rectangle in front of you. Again visually split the rectangle into 3, folding the outer third of both ends into the middle, this time making a smaller square. Using a scraper, scrape under the small square, adding a little flour to your rolling surface.
Again, using a floured rolling pin on a floured surface, roll the small square into a large square and repeat the folding as above. Each time you make a small square by folding, you're creating 4 layers. I usually repeat these steps about 3-5 times, to get 12-20 layers. By the end of the process, you should have a fairly sturdy dough, quite different from the soft, sticky patchwork that you started with.
After your last folding, wrap the dough (in plastic) and refrigerate at least an hour, preferably overnight.
Once removed from refrigerator, roll dough out onto a floured surface into approximately 1 cm thickness.
Using kitchen scraper, cut the dough into triangles.
Melt butter and honey, then apply as a glaze to the tops of scones.
Bake on greased pan at 400F for 25-30 minutes.
Serve warm with tea. Makes about 20-25 small scone triangles.
Reviews
{{note.Summary}}
edit
{{note.author.name}} on {{note.date | date:'medium'}}
{{writtenLevel}}
{{note.Comment}}