Thai-inspired Corn Cakes
I enjoyed this at a Thai restaurant once and couldn't get it out of my head.  I have spiced mine up with lemon leaves and chili flakes but feel free to omit these if you prefer or if you don't have it on hand.  Sweet, spicy and lemony, these corn cakes are a nice afternoon snack, or a unique appetizer.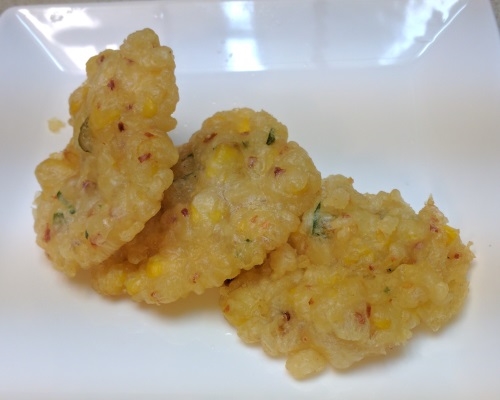 Ingredients
1 ½ cups corn kernels (frozen OK, thaw and drain)
½ cup flour
½ cup cornstarch
½ tsp baking powder
5 pinches salt
1 tsp sugar
14 tbsp cold water
1-2 lemon or Kaffir lime leaves (sliced thinly, optional)
1/2-2 tsp red chili flakes (adjust accordingly)
Directions
Mix dry ingredients in bowl.
Add sliced leaves, corn kernels and red chili flakes.
Add ice cold water and mix.
Mix well, add sufficient water until batter is the consistency of a watery batter.
Heat 1 ½ to 2 inches of oil in a small pot.
Spoon corn batter into heated oil.
Allow to brown on one side, then flip over.
Drain on a cooling rack with a bowl underneath.
Serve warm with sweet chili dipping sauce or enjoy on its own.
If making ahead, reheat in oven when ready to serve.
Reviews
{{note.Summary}}
edit
{{note.author.name}} on {{note.date | date:'medium'}}
{{writtenLevel}}
{{note.Comment}}