Curry Chicken Pot Pie
Curry Chicken Pot Pie is a twist on the traditional Pot Pie.  It can be made with any type of meat or vegetarian curry, as long as it is not too runny.  It is easiest when there are leftovers to use as a filling.  Feel free to use any of your favorite curries - Indian Curry, Thai Curry or Malaysian Curry just to name a couple.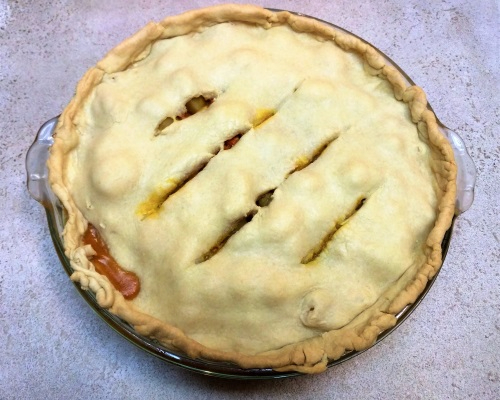 Ingredients
Homemade Pie Crust
2 cups flour
½ tsp sugar
2-3 pinches of salt
6oz cold butter
1/3 cup cold water
Simple Chicken Curry
1-1.5 lbs boneless chicken, cut into bite-sized cubes
½ medium onion
4 cloves garlic
3 potatoes, diced
3 carrots, diced
½ cup peas
1 tomato, diced
2 tsp Curry powder (adjust to taste)
1 tsp chili powder (optional, adjust to taste)
½ tsp sugar
salt to taste
Pie crust ( home made or store bought)
Directions
Fry chopped onion and garlic until light brown.
Add diced tomatoes and allow to fry slightly.
Add Curry and chili powders.
Add potatoes and carrots, and allow to cook slightly.
Add diced chicken.
Once chicken is cooked, add peas.
Add sugar and salt to taste.
Stir to mix. Set aside.
Place pie crust into pan.
Bake bottom crust until lightly browned.
Pour Curry chicken into pie crust.
Cover with pie crust above.
Make venting holes on top crust.
Bake in 375F for 30 minutes or until pie crust is sufficiently browned to your liking.
Homemade Pie Crust
Mix together salt, sugar and flour.
Add diced butter to mix and mix until Pea sized consistency.
Add cold water to flour mix until dough just starts to form.
Refrigerate for 30-60minutes. Roll dough to fit pan.
Reviews
{{note.Summary}}
edit
{{note.author.name}} on {{note.date | date:'medium'}}
{{writtenLevel}}
{{note.Comment}}