Braised Fragrant Beef/lamb Curry
One of my favorite Malaysian dishes is Beef Rendang. However, to make an authentic Rendang requires toasted coconut, blending and slowly frying the blended ingredients to a just-so perfection. Though I hope to make an authentic rendang sometime in the near future, my current schedule just doesn't allow for it right now. So I have improvised. Using lndian spice powders (garam masala) and unblended ingredients, I have tried to mimic the amazing fragrant braised goodness of authentic Rendang. Don't be put off by the number of ingredients - once you have them on hand, it's just a matter of placing it in the pot and simmering.  Feel free to substitute Beef with Lamb or Mutton or Pork.  And yes, like the original Rendang, it tastes better the next day.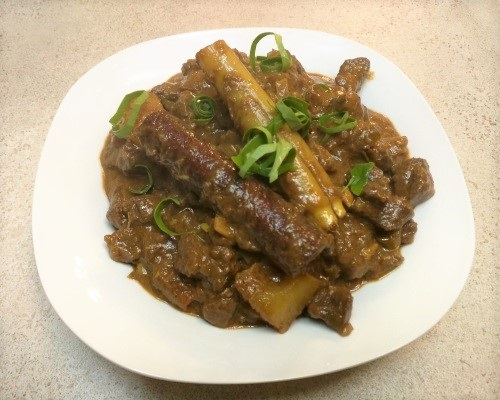 Ingredients
Beef Marinade
2-3 lbs Beef/Lamb/Mutton/Pork, cubed
6-8 cloves
3 tbsp garam masala (store bought or homemade - see link in Summary above)
1 tbsp Indian Curry powder
1-3 tsp chili powder, adjust to taste
1 tbsp soy sauce
Curry
1 ½ medium onions, chopped
8-10 cloves garlic, chopped
2 inch ginger, (chop 1 inch, slice 1 inch)
1-2 hot chili peppers, chopped, adjust to taste
2-3 stalks lemongrass (½ chopped, ½ crushed but left in stalks)
4 star anise
1 stick of cinnamon (~3 inches)
2-3 medium potatoes, cut into 1 inch chunks
3 tomatoes, diced
1 ½ cup coconut milk
1-2 lemons, juiced, adjust according to taste
1-3 tsp sugar, adjust to taste
Salt to taste
Directions
Marinade cubed meat in marinade mix in refrigerator for ½ to 2 hours.
Fry onion, garlic, ginger, chili peppers, lemongrass, star anise and cinnamon until fragrant and onions lightly browned.
Add marinaded meat into pan and allow meat to brown slightly.
Add diced tomatoes and allow to simmer.
Add coconut milk and lemon juice and simmer until meat is just starting to be tender to a fork.
Once tender, add potato chunks and cook until potatoes are just starting to become tender to a fork.
Adjust salt and sugar to taste.
Serve warm with steamed rice, in a sandwich, over mash potatoes, or with your favorite bread.
Reviews
{{note.Summary}}
edit
{{note.author.name}} on {{note.date | date:'medium'}}
{{writtenLevel}}
{{note.Comment}}