Rough Puff Pastry
I have always wanted to try puff pastry but the thought of spending hours in the kitchen refrigerating the pastry between layers has been a deterrent. However this very easy method takes about 30 minutes, and produces many layers of puffiness.  I use this dough to make pot pies (reduce sugar to 1 tbsp for savory pastries), egg tarts and what I call scones.  I think it would go well as a crust for fruit pies too!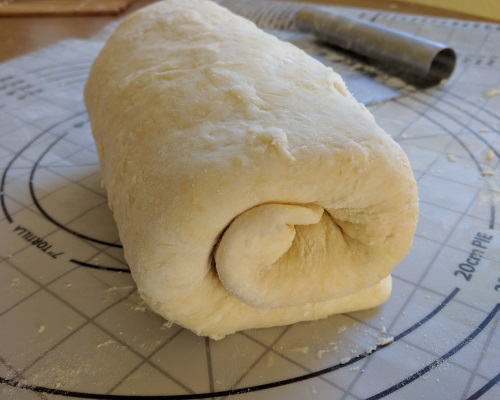 Ingredients
2 cups all-purpose flour
4 pinches salt
2 tbsp sugar
1 cup cold butter, diced, keep in refrigerator until needed
⅔ cup ice cold water
1 egg
Directions
Mix flour, salt and sugar together in a bowl.
Beat egg into flour mix until well mixed.
Add diced butter to flour mix.
Using two forks, roughly mix diced butter into flour, until butter is coated with flour. Avoid using hands as the warmth from hands will melt the butter.
Add cold water and mix with fork.
On a slightly floured surface, pour out flour mix. Mix will look very crumbly at this point. It will start looking more like pastry each time you roll it.
With a lightly floured rolling pin, roll crumbly flour mixture into a large square.
Folding the dough into thirds (as if folding a letter to fit into an envelope), fold both sides of the dough towards the middle. You will now have a rectangle.
Now roll the rectangle into a log the easiest way you can.
Use a scraper to remove sticky dough from the surface.
Roll the dough into a large square again. Use flour as needed sparingly, a metal scraper really helps in the folding process when trying to minimize the use of flour.
Repeat folding the square into thirds, folding both end thirds towards the middle, then rolling into a log.
Roll, fold and repeat two or three more times.
Divide into two, wrap in plastic wrap, and refrigerate one hour to overnight. (Feel free to freeze dough at this point, thawing overnight in refrigerator before use.)
Once chilled, roll out dough onto lightly floured surface to about 1/4" thickness. Pastry needs to be kept refrigerated until just prior to baking.
Cut into triangles and glaze with honey butter (2 tbsp butter, 1 tbsp honey) for a simple pastry served with tea. Or feel free to use as a crust for savory pies (reduce sugar to 1 tbsp sugar if using for savory pies) or sweet desserts.
Bake in 450F preheated oven for 20 minutes. Feel free to adjust time depending on how brown you would like the pastry. Enjoy!
Reviews
{{note.Summary}}
edit
{{note.author.name}} on {{note.date | date:'medium'}}
{{writtenLevel}}
{{note.Comment}}