Sweet Mustard Mashed Potatoes
On our last visit to Germany, I found a new condiment in the grocery store - Sweet Mustard.  Being without my regular spices to work with, I added the Sweet Mustard to Mashed Potatoes.  My family enjoyed the meal as a side to Currywurst Sausages (without the Sandwich).  Now back home in North America, Sweet Mustard is not an easy condiment to find = so I add the sweetness to my favorite mustard to make the mashed potato recipe.  We have it as a side to Paprika Lime Pork Chops or Jamaican Jerk Chicken.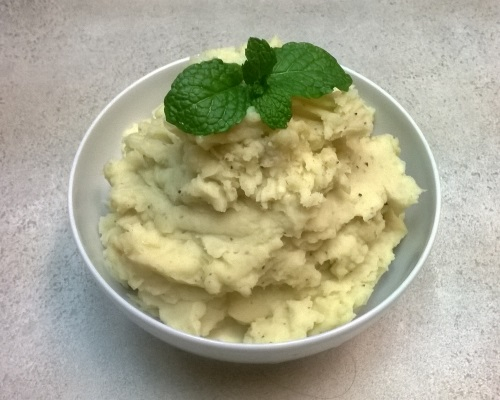 Ingredients
5 boiled potatoes
1 tbsp butter
½ medium onion, chopped
1 tbsp oil
½ tsp salt
½ tsp black pepper
3 tsp sugar
½ cup milk
2 tbsp spicy brown Mustard (or your favorite Mustard)
Directions
Boil potatoes until tender.
Mash potatoes, adding salt and butter to it. Set aside covered.
Fry chopped onion in oil until lightly browned.
Turn heat down, add Mustard and sugar. Remove from heat.
Add mash potatoes to onion mix. Add black pepper.
Mix well. Adjust salt and sugar to taste.
Add milk to mash potatoes and stir.
Reviews
{{note.Summary}}
edit
{{note.author.name}} on {{note.date | date:'medium'}}
{{writtenLevel}}
{{note.Comment}}